'Real Housewives of OC' Talk About Sex Symbol Status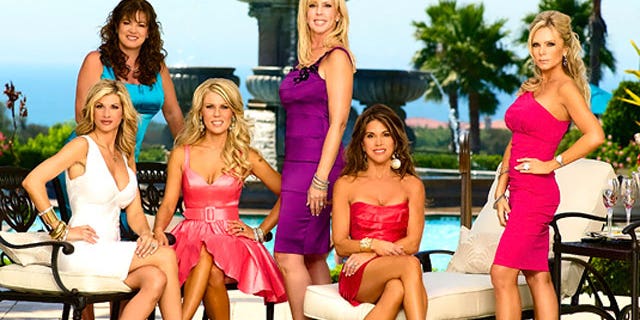 NEWYou can now listen to Fox News articles!
LOS ANGELES – "Real Housewives of Orange County" are back and as catty as ever in the fifth season of the hit Bravo series – but when we caught up with the four sexy starlets Gretchen Rossi, Tamra Barney, Vicki Gunvalson and Lynn Curtin at TV Guide's Hot List Party in West Hollywood on Tuesday night they had a few words of wisdom to share about their "real" lives away from the lights and action.
Q: How comfortable are you with being portrayed as "sex symbols"?
Tamra: I think at 42, to have sex symbol in the same sentence? I'll accept it, I'll embrace it. Bring it on.
Vicki: I think it's a great. We can be role models for women.
Lynn: I would love to be called that. Where's that one guy? I want to meet him.
Q: So what's the biggest misconception people have of you?
Gretchen: That I'm a goldigger—I'm not. I'm a very self-sufficient woman I made my own money before I met Jeff; I still make my own money.
Tamra: That I'm the mean girl. I'm not the mean girl, I'm just misunderstood.
Vicki: It's that I'm a control freak and all I do is work, but I actually have a great balance in my life.
Lynn: Probably that I'm kind of ditzy and I don't really know what's going on and that I'm not a good business woman. But I am. They're going to be surprised this year when they see my stuff everywhere.
Q: What's the most surprising thing about being on a reality show?
Gretchen: That people still know who you are without make-up on. People really only know 5% of me, it's usually the most negative 5 percent too.
Tamra: I have people sending me stuff on my birthday, they know my address and they know my kids' birthdays. They send me cards and shirts and bracelets.
Lynn: People know where you're going all the time; they know who your kids are. Someone actually came up to my husband and told him he was being a bad parent. He had to abandon his cart and leave, the lady was harassing him for being a bad parent. It's a total misconception, we're the strictest parents.