'Real Housewives of Dallas' star Stephanie Hollman: 'It was scary' filming with LeeAnne Locken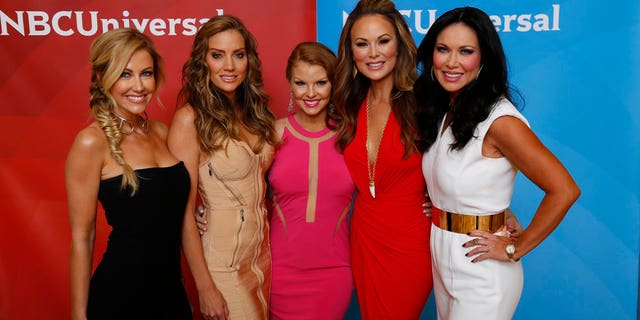 NEWYou can now listen to Fox News articles!
"Real Housewives of Dallas" star Stephanie Hollman said it wasn't easy filming with co-star LeeAnne Locken, who revealed during Sunday's reunion special on Bravo that she is in anger management therapy.
"I think she needs anger management counseling, so I am actually proud of her for that because if you know better, you do better," Hollman told FOX411 on Monday. "Maybe this season was a way to look at herself and say 'I need help.' I'm hoping she can change and seek help in therapy. It was honestly a really hard year. It was a scary year dealing with her at times."
Hollman, who is closest to Brandi Redmond on the show, revealed what she really thinks of Locken .
"I think she is only comfortable if she has power and I felt like that the entire season," she said. "If she is in control and has power and then everyone is agreeing with her, she is easy. But the moment she feels so doesn't have control, it's like she's trying to get you in line. And I feel like that is what she was trying to do to me. She wanted to make sure she was the alpha at all times."
The one thing from the reunion special that Hollman didn't like was the amount of time it took Locken to apologize to fellow co-star Cary Deuber for their past conflicts.
"The only thing I did not like was I felt it took her a long time to apologize. I felt she was making excuses of her behavior instead of just owning it and saying 'you are right I shouldn't have done that.'"
Hollman charged that Locken is manipulative.
"I think she has been through a lot when she was younger, and I think the only way she feels safe is if she is in control. I do think she bullies and manipulates to get her way a lot."
Though filming the series, which just completed its first season, proved challenging at times, Hollman told us she was glad to have had the experience.
"I think it strengthened my marriage too because I had to really lean on my husband; especially once the show came out there was so much work, but there was also a lot of criticism," she said. "He is proud of me, he is very supportive. He kind of does his own thing. He is not one of those guys that is really into it. I know some of the other husbands were upset they were not in the reunion, but my husband was really glad."