Ray Romano says 'Everybody Loves Raymond' 20th anniversary reunion is 'in the works'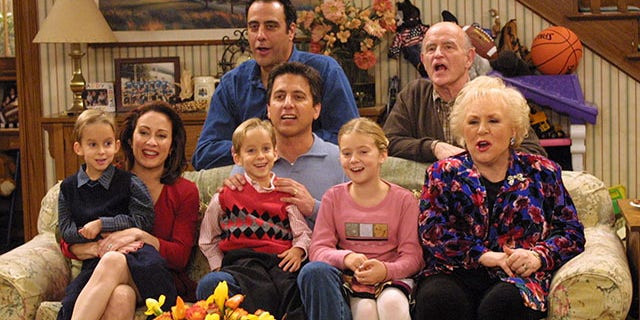 With 2016 marking the 20th anniversary of "Everybody Loves Raymond's" debut, star Ray Romano told ET on Friday that a reunion is in the works.
"I think we might be going to Austin for the festival -- the South by Southwest festival -- and I think they're gonna have a little thing for us and get us together," he revealed at the premiere for his new HBO series, "Vinyl." "So that's in the works right now."
Click here to subscribe to FOX411's YouTube channel
In October, it was confirmed that the "Everybody Loves Raymond" cast would reunite at Austin's ATX Television Festival. ET has reached out to SXSW to see if they'll be appearing at both festivals, but either way, we can't wait to see Ray, Debra, Marie, Frank, Robert and the gang together again somewhere in Texas.
FLASHBACK: On the 'Everybody Loves Raymond' Set in '96 With Sawyer Sweeten
When asked why he thinks the show continues to resonate with audiences, Romano, of course, had a quippy comeback at first -- "'Cause I'm not naked in it?" -- but later admitted that the show's success is due in part to creating stories and characters that audiences around the world can identify with.
"I'm amazed. It seems to be just a common denominator that no matter where you're from, how you're brought up or your religion or beliefs, family is universal," he said. "It resonates with people."
One person who hasn't seen an episode of the comedian's hit sitcom, however, is "Vinyl" executive producer Martin Scorsese. According to Romano, the director hadn't heard of him before seeing his audition tape for the new show.
"It was refreshing. It was good -- it actually worked in my favor, because he didn't have a preconceived idea of who I was," the 58-year-old comedian said.
WATCH: Ray Romano Looks Back on 'Late Show': 'I Wouldn't Be Here If It Wasn't for David Letterman'
He met one of "Vinyl's" other executive producers, Mick Jagger, just once during filming, and Romano confessed that he was left totally star-struck.
"I was a teenager in the '70s, so the fact that I'm talking to him -- the fact that he's seeing stuff that I'm doing -- I don't get it," he said with a laugh. "I think it's all a hologram, really."