Rap Star Lil Wayne Heads to Jail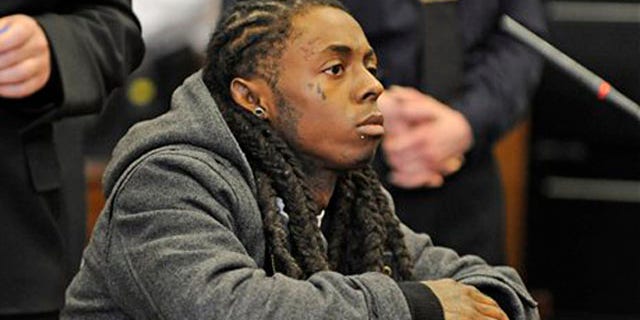 "Yo, keep your head up, Weezy!" one fan shouted from a back row in a Manhattan courtroom as the cuffs went on.
With good behavior, the rapper will spend eight months in protective custody on New York's Rikers Island for the .40-caliber Springfield Armory semi-automatic cops took from his pot smoke-infused tour bus after a concert two years ago at the Beacon Theater.
The Grammy-winning performer -- nicknamed "Weezy" -- who has made upward of $50 million a tour, will continue making music in jail, said his lawyer Stacey Richman.
"He's an unstoppable musician and creator," she said.
But in court, his performance was decidedly restrained. Slouching at the defense table in a gray hooded jacket and baggy black jeans, he said virtually nothing.
Asked by Manhattan Supreme Court Justice Charles Solomon if he wanted to speak before sentencing, the rapper shook his head, "No."
"Nothing at all?" repeated the judge. The rapper shook his head again.
Richman has repeatedly claimed the gun belonged to another uncharged associate of the rapper who was on the bus and was willing to accept responsibility for it.
But prosecutors took a hard line, insisting that "possession," under the strict legal sense of the word, means having control or "dominion" over the gun, and doesn't necessarily mean outright ownership.
Cops who boarded Lil Wayne's tour bus said they saw him toss the gun into a Louis Vuitton knapsack.
The knapsack also contained a prescription bearing Lil Wayne's given name, Dwayne Carter, said cops.
The rapper's sentencing was cancelled on three prior occasions -- once because he needed to complete major dental surgery, and twice more because of a fire and resulting repair delays at the courthouse.