Randy Quaid, Wife Seek Refugee Status in Canada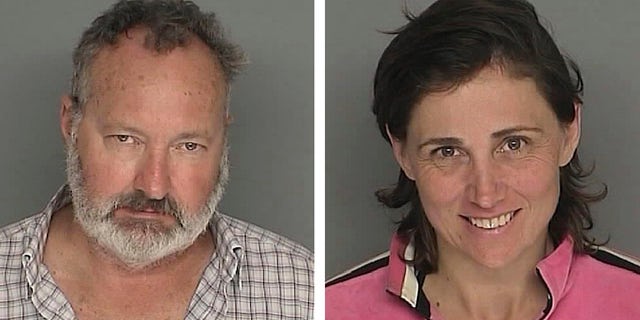 VANCOUVER -- Actor Randy Quaid told Canada's immigration board Friday that he and his wife are seeking asylum from "the murderers of Hollywood" and will therefore apply for refugee status in Canada, after they were arrested on U.S. warrants related to vandalism charges.
The pair were arrested on Thursday afternoon in a shopping area of an affluent Vancouver neighborhood and were jailed on outstanding U.S. warrants.
The Quaids are wanted in Santa Barbara, where they missed a court hearing Monday on felony vandalism charges.
The Quaids were ordered released from custody Friday, but must each post $9,750 bail and fulfill their promise to appear for their next hearing Thursday.
Santa Barbara County Senior Deputy District Attorney Lee Carter said Friday that Quaid and his wife Evi's bail increased to $500,000 apiece.
Their attorney, Robert Sanger, said he hoped the situation could be resolved but declined comment citing the pending case.
The couple told the immigration adjudicator they are being persecuted in the United States.
Evi Quaid begged a Canadian immigration adjudicator not to force them to return, saying on Friday that friends, such as actors David Carradine and Heath Ledger, have been "murdered" under mysterious circumstances and she worried something would happen to her husband next.
"We feel our lives are in danger," she said. "Randy has known eight close friends murdered in odd, strange manners ... We feel that we're next."
During a break in the proceedings, the Quaids' lawyer, Brian Tsuji approached the media to read a single-sentence statement from the Quaids. "We are requesting asylum from Hollywood star whackers," he read, declining further comment on the mental state of his clients.
Evi Quaid said she's been told by a jail nurse that her blood pressure is dangerously high due to stress and that Randy Quaid's mother has been hospitalized in the U.S. as a result of the stress from their legal troubles.
Friday's hearing was a mandatory detention review.
On Friday, the Quaids promised they would appear for their next hearing. Evi Quaid said she'd be willing to wear an ankle bracelet while staying at a posh Vancouver hotel.
Randy Quaid said the couple came to Canada because he was being given an award by a film critics group. He said they were considering moving to Vancouver where Randy planned to jump-start his career.
He said the pair believed the warrants were issued by mistake and had been withdrawn and the couple didn't travel north in an effort to skip out on them.
"Canada is a beautiful country for what we want to do," Quaid said outside the hearing room, without elaborating on his plans. Quaid was questioned by a reporter if the couple are dealing with a substance abuse problem, which he denied.
"It's been a very welcoming nation to me," he said. "I would not do anything to besmirch my reputation."
The Quaids face no charges in Canada.
A U.S. judge issued arrest warrants Monday for the couple after they failed to show up at a California court hearing stemming from their arrests last month on suspicion of illegally squatting at a home.
Quaid and his wife face felony vandalism charges after more than $5,000 in damage was found in a guest house of a Montecito, California home they had previously owned.
The Quaids frequently missed court appearances in an earlier U.S. case involving charges they defrauded an innkeeper. That case was resolved in April with Evi Quaid pleading no contest to a misdemeanor. The charges against her husband were dropped.
Randy Quaid, 60, is best-known for supporting roles in films such as "Independence Day" and "National Lampoon's Vacation." He is the older brother of Dennis Quaid.
Ledger was nominated for an Oscar for his lead role in the movie "Brokeback Mountain." He died in January, 2008 from an accidental overdose.
Carradine was star of the hit 1970s television series "Kung Fu" and also had a movie career before he hanged himself in Thailand last year. He was 72.