Rachel Uchitel: Anybody Would Want to Be Friends With Me!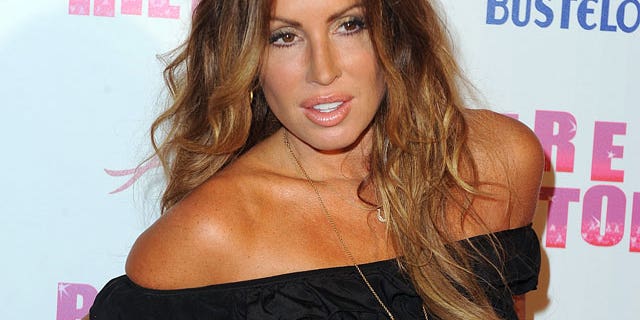 LOS ANGELES – It has certainly been a tumultuous few months for Rachel Uchitel, who shot to fame last November when she came out as the first of more than a dozen women linked to Tiger Woods. But in the wake of all the negative PR surrounding the alleged affair, which she flatly denies, Uchitel is ready to set the record straight by assuring the world that she is just a regular gal.
"You can't judge a book by its cover," Uchitel told Pop Tarts at Perez Hilton's 32nd Birthday Party at Hollywood's Paramount Studios on the weekend. "I'm a nice normal girl that anybody would be friends with…"
And adding fuel to rumors that she took a $1M payout to keep quiet, Uchitel didn't want to talk about the Woods scandal. In fact, her "person" took the time to warn everyone at the party that she wouldn't discuss it.
SLIDESHOW: Rachel Uchitel's Life Looks Like a Party
But one has to wonder then why she was posing for pictures and doing press at a gossip bloggers birthday party. Is this the 35-year-old's idea of leading a low key life?
"I just moved to Vegas with my dogs. I own an apartment there so I just moved there to have some time in an apartment that I own, and I visit friends and have family there… I am absolutely (enjoying more anonymity now). Put yourself in my shoes," Uchitel added in a particularly snippy, sarcastic tone.
Aww, we feel really, really sorry for you Rach.
SLIDESHOW: The Women Linked to Tiger Woods
Speaking of people who've become famous (or at least think they're famous) for all the wrong reasons, Bristol Palin's estranged baby daddy Levi Johnston also attended the bash, complete with a bodyguard, and thought he was important enough to cut the line at the photo booth before telling us he is enjoying his time in the limelight.
"I'm just trying to take it in, make the best of it, and make sure I come off as a better image than I started," Johnston said, adding that (thankfully) he won't be stripping for Playgirl ever again.
And although it was just last week that "Real Housewives of Atlanta" star Kim Zolciak finally confessed to being in a lesbian relationship after weeks of speculation, the (confused?) reality starlet still claims she's committed to a male.
"I've got a great man and I'm happy and I couldn't give a s**t what anyone else thinks," Zolciak said before flashing a huge ring. "Big Poppa is on, baby!"
SLIDESHOW: The Lovely and Talented Kim Zolciak