'Project Runway' Tapes Season 6 Finale Without Contestants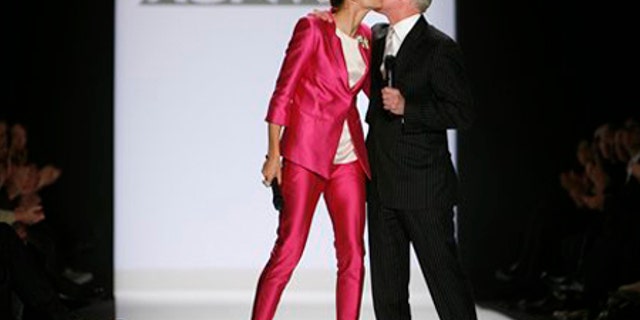 NEW YORK – "Project Runway" taped its sixth-season finale on Friday, but something very important was missing - the finalists.
Because of a legal battle, three unknown designers sent their collections down the runway at the tents in Bryant Park on the final day of New York Fashion Week. Since the cast has not been announced, the finalists stayed hidden backstage.
Host Heidi Klum told the audience that she was "a little bit sad" the finalists couldn't have their moment in the spotlight after working so hard to get there.
"This year is gonna be a little bit different for us, for all of you, for our designers backstage. ... We're all in a bit of a limbo and we hope that everything gets sorted out very soon," Klum said.
The new season of "Project Runway," which aired for five seasons on Bravo, has been delayed because of a legal battle involving NBC Universal, which owns Bravo; the Weinstein Co.; and the Lifetime Channel.
NBC Universal sued Weinstein after the production company made a reported $150 million deal with Lifetime for the series that features Klum, Michael Kors and Nina Garcia on the judges' panel.
"It's a show that is very helpful for the industry," said Garcia, on her way to choose the winning designer after the show. "It's very encouraging for young designers. It's something that I think we all should be doing, supporting (the) young talent, now more than ever. We're in this weird economic downturn and the fashion industry is suffering."
The overall mood of the three collections was darkly glamorous, though one designer sent out brighter looks, including a turquoise gown and a gold cocktail dress, echoing the metallic trend seen throughout the week.
International Herald Tribune editor Suzy Menkes was a guest judge for the finale. The new season was filmed in Los Angeles instead of New York, home of the previous five seasons.
Last September, a New York Supreme Court justice issued a temporary injunction preventing Weinstein from taking "Runway" or any spinoff to Lifetime and contended that evidence showed that Weinstein violated NBC's "right of first refusal" for the show.
Weinstein has said there was no right of first refusal in the contract and that NBC Universal was offered the deal and was outbid.
The sixth season had been expected to start airing on Lifetime in January.
Christian Siriano, who won the show's fourth season, mostly liked what he saw.
"I don't think it blew me away at all," he said. "But I think it was really strong and consistent. I don't think there was, like, a BAD collection -- where last season, there were some rough ones."