Priyanka Chopra calls Meghan Markle 'a princess for the people'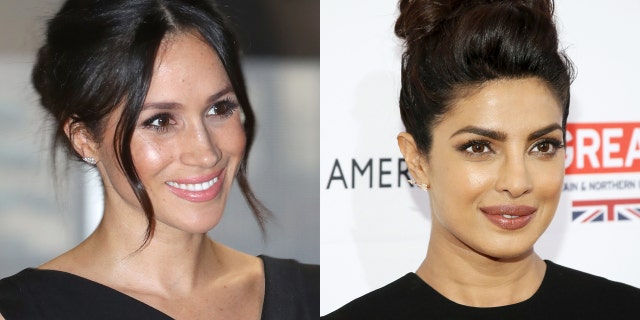 NEWYou can now listen to Fox News articles!
"Quantico" actress Priyanka Chopra thinks that her good friend, Meghan Markle, will be "a princess for the people."
Featured as "Leaders" in Time Magazine's annual 100 Most Influential People, Meghan Markle is listed alongside her future husband, Prince Harry.
In the magazine profile about Markle, penned by Chopra, the ABC star says that Markle and Harry's relationship has made "a cynical world believe in fairy tales again."
"More than anything else, Meghan is an important influencer in a world that needs strong public figures to respect and look up to," she wrote. "People the world can be inspired by. Meghan, standing shoulder to shoulder with Harry, will be a princess for the people."
Chopra, who met Markle at an Elle Women in Television event, also touched on the former "Suits" star's zest for life and her compassion for the world as a humanitarian figure - something she shares in common with Harry.
"Somewhere among biryani, poutine and endless conversations, I realized just how deeply Meghan Markle cares for the world," the Quantico star wrote. "With her, what you see is real, and what you get is a relatable young woman with her heart and mind in the right place."
At the end of the heartfelt essay, Chopra wished her friend well and said, "Love always, my friend. Live happily ever after."
And just as Chopra wrote about Markle, Elton John took the time to share a few words about his fondness for Harry.
The legendary singer recalled the first time he met Harry, who just a boy the time, during a private lunch with his mom, Princess Diana, for fashion designer Gianni Versace.
"What a joy it has been to see that young boy grow to inherit his mother's warmth, sense of humor and courage to stand up and champion the causes he truly believes in," John said. "As he has grown in maturity, I have watched him take on these causes with the remarkable skill to see and communicate how it truly feels for the people he is trying to help."