Prince Royce adds Latin flavor to 'Furious 7' soundtrack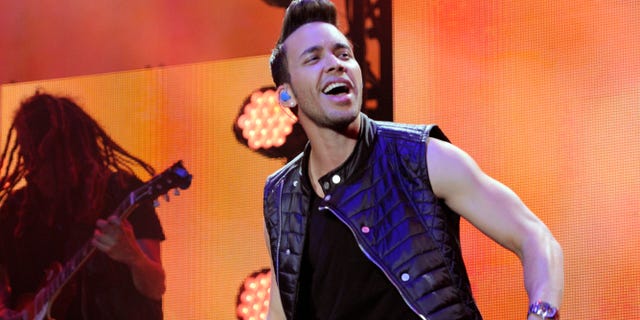 Prince Royce is a huge fan of the "Fast and Furious" films. So when he was asked to do a song for the soundtrack of the next installment in the popular series, he didn't even give it a second thought.
"I've seen all the movies, way before being part of the project. It was a pleasure and an honor to be part of the soundtrack," Royce told the Associated Press.
The bachata singer described his new single, "My Angel," which hit the airwaves on Tuesday, as being "very sexy-romantic."
"The guy basically tells this girl, 'Wow, you are an angel. Where did you come from, I've been waiting you my whole life,'" Royce said.
In the music video, the Dominican-American singer was able to become part of the franchise, driving a sports car through the desert.
"I was able to give it everything it had," Royce remembered.
Although Royce doesn't make an appearance in the film – which stars Vin Diesel, Tyrese Gibson, the late Paul Walker, Michelle Rodriguez and Jordana Brewster – Royce said he is taking acting lessons just in case he is ever asked to be part of a cast.
"I am open to everything. Work is the most sacred thing to me, and I would love to step out of my comfort zone," he said. "If I am ever too comfortable, I say, 'No, I have to change something.'"
Aside from "Furious 7," if Royce had to choose his favorite movie in the series, Royce would lean toward the first and the third – although he is adamant that he loves them all.
"Every film has been something different; No. 6 had a lot of action, we saw people like Don Omar and Tego (Calderón) that gave them some variety," he said. "For me it's also important to see how Latinos are being represented, both in music and film."
Speaking of Latino representation in Hollywood, Royce praised the recent Oscar win by Mexican filmmaker Alejandro González Iñárritu, calling it "progress."
"It has taken a long time for Latinos to be recognized in the Anglo world, in the American world, but I believe that every year we are representing our culture and I believe every year we get more and more respect," he said.
"My goal is to represent Latinos, because although I was born in New York, my parents are Dominican and I feel very much Latino."
"Furious 7" hits theaters April 7.
Based on reporting by The Associated Press.
Like us on Facebook
Follow us on Twitter & Instagram