'Power of Pitt' Drains Congressional Offices of Female Employees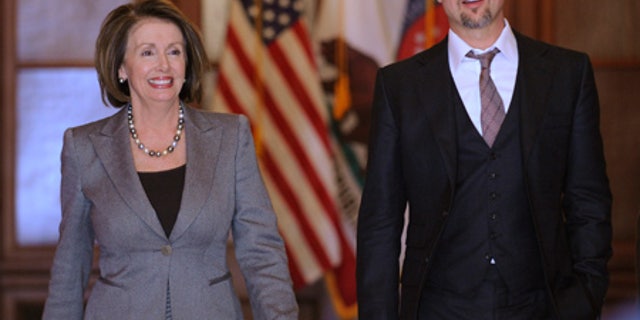 WASHINGTON – First of all, no, Brad Pitt is not short. Yes, he's handsome enough to stand out in any crowd. And, sorry, Angie wasn't with him.
From the moment he stepped into the Capitol on Thursday, sunglassed and goateed, Pitt's star power transformed congressional business-as-usual in a way any lawmaker or new president might envy.
Pitt's superpowers are such that he and President Obama pulled off an improbably secret meeting on the same topic earlier in the day, White House spokesman Thomas F. Vietor confirmed.
House Speaker Nancy Pelosi was not immune to his charms. Praising Pitt for his work to rebuild New Orleans' hurricane-ravaged 9th Ward, she even allowed that meeting him affords her "bragging rights to my children and my grandchildren — a real treat for me as well."
And during a closed meeting earlier, Senate Majority Leader Harry Reid confided to Pitt that he was envious that his lieutenant, Majority Whip Dick Durbin, got to meet soccer star Mia Hamm a day earlier, according to one person who was present and spoke on condition of anonymity.
Well, Pitt replied, he'll bring along co-parent Angelina Jolie next time to help Reid make Durbin jealous, this person said.
Later, a Durbin aide sniffed: "Durbin's already met Angelina Jolie."
These officials demanded anonymity because the meeting was private and they did not want to be caught gossiping about a movie star.
The Power of Pitt drained entire congressional offices of their female employees and quite a few male aides as well, all of whom could be picked out by the way they suddenly appeared in the Senate's doorways and halls, nonchalantly cupping cell phones and cameras at their sides and hanging around waiting news crews.
Finally, around 1:30 p.m., Pitt, four aides and assorted security guards climbed out of a darkened SUV at the Capitol's north gate and strolled across the sun-dappled plaza.
As he approached the building, all nonchalance inside disappeared. Was he coming in the carriage entrance? No! He was coming through the North Door.
And so he did, entering through the famous Brumidi corridor, whose ornate and historic paintings he probably couldn't see through his sunglasses. Reporters, photographers and giggling staffers shuffled after him, up a flight of stairs and around a corner toward Reid's office. As Pitt entered the parlor, he took off his shades. An aide closed the door behind him.
Inside with Reid, Pitt made an earnest case for nationalizing his "Make It Right" campaign, in partnership with Congress, according to a second knowledgeable aide who spoke on condition that he not be named because the meeting was private.
Afterward, this official said, Reid and Pitt posed for pictures, the senator cracking, "How will people tell us apart?"
Outside the door, grinning Capitol Police officers put up ropes to keep the hordes out of the path Pitt was expected to take toward his next meeting, with Sen. Patty Murray, D-Wash., in a building across the street.
Sen. Patrick Leahy, D-Vt., the Judiciary Committee chairman who has appeared as himself in several "Batman" movies and even had a speaking line in "The Dark Knight," stumbled across the crowd gathered outside Reid's door.
Told who was inside, Leahy issued a giddy, "Gosh!" and kept walking.
In the end, Pitt and his entourage slipped out a side door and took an elevator to the basement subway.