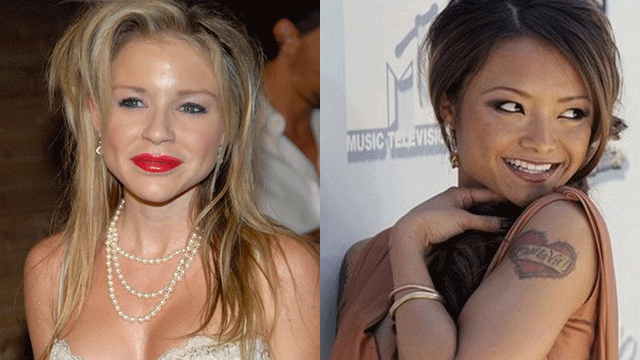 Police investigating the death of Casey Johnson plan to talk with her fiancee, Tila Tequila, about her reported claims that the 30-year-old socialite died of a prescription drug overdose, Fox411.com has learned.
Detectives have begun interviewing friends and family members of the Johnson & Johnson heiress, and they plan to talk to Tequila about a report saying Tequila feared Johnson may have died of a prescription drug overdose.
RadarOnline.com reported on Monday that Tequila had said she suspected prescription drugs may be involved with Johnson's death.
SLIDESHOW: Casey Johnson's short life in the fast lane.
"There were no apparent signs of foul play but the detectives will still follow all leads, each and every one, including that one," said LAPD spokeswoman Sara Faden.
She did not know when detectives would speak with the reality television star
A second law enforcement source confirmed investigators' plans to interview Tequila, who is believed to have been the last person to see or speak to Johnson before she died.
FOX411 EXCLUSIVE: Casey Johnson lied about daughter to get money.
Johnson was found dead at her Los Angeles home late Monday morning, but police suspect she died days before. The heiress and the reality star had an argument and the last time they spoke was four days before Johnson was found, according to a source close to the family.
Police did not find anything in Johnson's home to indicate foul play, Faden said. There was no sign of broken glass, which could indicate a break-in, or signs that a weapon had been present in the house or that a physical struggle took place.
Other police sources said Johnson's body showed no signs of physical confrontation, and there was nothing suggesting suicide. TMZ reported that police found an "insignificant" amount of prescription drugs.
FOX411 EXCLUSIVE: Diabetes eyed in Casey Johnson's death.
In a series of conflicting tweets on Monday, Tequila announced the news of Johnson's death, then announced that Johnson was not dead, but in a coma. In a third tweet, she again announced that her girlfriend had died.
Tequila's second tweet, which read, "just got news that my fiance is not dead but currently in a coma!!! . . . I'm almost home baby please hang on!" has since been deleted from her Twitter feed.
From late Monday morning through early Tuesday morning, Tequila posted over 20 more messages about the loss of her fiancee, and another message on Johnson's Twitter account.
SLIDESHOW: Casey Johnson's bisexual fiancee Tila Tequila.
Johnson's autopsy was completed on Tuesday, but the results were inconclusive. The cause of death was deferred pending toxicology results, which can take up to six weeks to complete. The coroner's office announced it will continue to examine Johnson's medical history.
A source close to the Johnson family emphasized the severity of Johnson's lifelong struggle with Type 1 Diabetes, telling Fox411 that she was diagnosed at the age of 8 with the most severe and potentially debilitating form of the disease, and she was fitted with a pump that automatically dispensed pre-calculated dosages of insulin based on her blood sugar levels.
The source said she responded well to this treatment for years, but then the insulin stopped working as well as it had and Johnson began to experience constant pain. She fell into diabetic comas and was rushed to the hospital at least twice in the past year, the source said
There will be a private funeral for immediate family later this week in New York, the family said in a statement.
"The Johnson family also wishes to thank everyone who has expressed condolences and support during this trying time. Your thoughts and prayers are deeply appreciated.
"For the many who have asked what they can do to honor Casey's memory, we ask simply that you consider making a donation to the Casey Johnson Memorial at the Juvenile Diabetes Research Foundation International (www.jdrf.org). Casey struggled throughout her life fighting this disease, and she would want to see all of us continue that fight on her behalf."