Placing Bling Is a Competitive Thing at the Oscars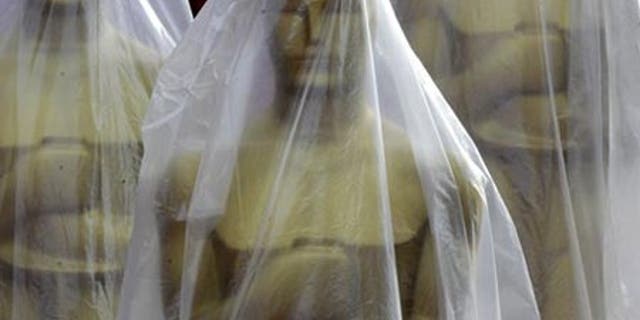 NEWYou can now listen to Fox News articles!
BEVERLY HILLS – Breathtaking baubles fill the glass cases at Martin Katz's jewelry showroom near Rodeo Drive, but during Oscar week, he keeps some of the most impressive pieces in a semiprivate back room.
That's where millions of dollars in diamonds — bracelets, earrings, necklaces, cuff links and flower-shaped brooches — sit on a gray velvet tray, quietly auditioning for a spot on the world's most celebrated red carpet.
It's a competitive week for jewelers and designers, all vying for an invaluable place in Oscar's spotlight.
"It almost becomes a pirhana-like business," Katz says.
It's "staggeringly competitive ... because it's such a fantastic advertisement for the brand," says Sally Morrison, director of the Diamond Information Center, an umbrella organization that promotes the industry. "It's very powerful. They get associated with a celebrity who is looking magnificent, who is at the height of their achievement and all that that implies."
Says stylist Tara Swennen, who is dressing at least one Oscar ingenue this year: "A placement at the Oscars on one of these girls is worth $50 million of advertising."
Such competition complicates the business, says Katz, who first began loaning his gems for red carpet wear in 1991. Where borrowing diamonds was once based strictly on personal relationships, nowadays stylists and celebs can pull in big paychecks for agreeing to promote a particular jeweler's designs, he says.
Some jewelers seek red-carpet placement by designing special pieces with a certain star in mind and hoping she'll wear it, Morrison says, while others cart in truckloads of diamonds and set up suites for stylists making last-minute decisions.
Swennen says she typically picks the dress first, then chooses two or three jewelry looks for her client to consider. She typically turns to designers she works with regularly.
Katz welcomed several celebrity regulars at his showroom on Friday, as well as stylist George Kotsiopoulos, who the jeweler has worked with for nearly 10 years.
Kotsiopoulos, who is dressing one of this year's Oscar darlings, banters with the jeweler and his associate, Jay Carlile, before getting down to business. Carlile brings out two pairs of spectacular earrings and sets them on the gray velvet tray. Kotsiopoulos concentrates.
"My concern with these is they're a little stiff," he says, eyeing a filigreed pair.
Carlile shows him a pair of 10-carat, $1.8 million diamond drop earrings.
"These are awesome," Kotsiopoulos says. "These are bigger than the SAG ones, right? I gotta make sure." (He wants to top the look his client wore to last month's Screen Actors Guild Awards.)
The stylist peruses the jewelry cases and selects an oversized black-diamond ring, then picks out one more pair of earrings.
"I should have these as well, just to make sure," he says. A representative from the Diamond Information Center takes notes and arranges to insure the gems.
Kotsiopoulos says he chose his client's dress over a month ago and immediately knew Katz's designs were "right" for the look.
The gown — and the star's personality — dictate diamond choice, Katz says. He advises his star clients, "This is your chance to be you and not a character, so you should wear jewelry that appeals to you," he says. "You want to look appropriate, so the jewelry is not wearing the person."
Katz loans his one-of-a-kind items to famous friend every year, but notes the pieces are "designed not to be lent, but to be sold."
Still, he can modify necklaces and earrings to make them more red-carpet ready. Earrings can be lengthened and diamonds can be darkened to lend a vintage look. Earlier this month, Katz added two jumbo black diamonds to a 140-carat, $2 million necklace for the Oscar fashion show.
He says most of the actresses on Sunday's red carpet will be wearing "several hundred thousand dollars to $1 million" in diamonds. And some of the selections will be made that morning regardless of relationships or the best laid plans, says stylist Swennen.
"There's no rhyme or reason at the end of the day," she says. "It really is the best dress, the best jewelry. There's always politics involved, but at the end of the day our job is to make our client look the best that she can look."