Peter Criss, Kiss' founding Catman, retires from performing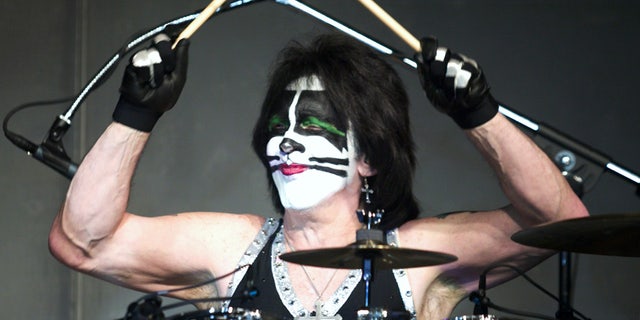 Peter Criss is saying goodbye to the stage.
The co-founder of the rock group Kiss and co-author of its hit single "Beth" is retiring with a final show.
It's his way to end a series of unhappy endings with Kiss, including the band's 2014 induction into the Rock and Roll Hall of Fame, where quarreling over which lineup would perform at the ceremony ended up with Kiss not playing at all.
On Saturday, Criss will play what he said is his last U.S. concert at New York City's The Cutting Room. The audience can expect a mix of Kiss classics, his own solo material, and covers he always wanted to perform live but was told by Gene Simmons and Paul Stanley, "We don't do that; it's not Kiss."
"I want to leave the stage happy," Criss said. "I got onto the stage not thinking about making a buck. It was just pure: Play drums, have a good time, meet girls, travel and get out of Brooklyn."
The 71-year-old formed Kiss with Stanley and Simmons and guitarist Ace Frehley in 1973. Within two years the album "Alive!" captured the essence of the makeup and costume-wearing, bomb-detonating, blood spitting musical circus that was Kiss, and spawned one of rock's all-time classic anthems, "Rock and Roll All Nite."
But drugs and alcohol helped cut short Criss and Frehley's tenure with the band until a 1996 reunion that was the year's highest-grossing tour. By the end of a co-headlining tour with Aerosmith in 2003, Criss said, "There was bad blood with us again."
The morning after the last tour date in California, Criss said Simmons, Stanley, and guitarist Tommy Thayer, who replaced Frehley, "were leaving on our jet, a G-5, and they booked me on a commercial jet at 7 o'clock the next morning. And I hit the ceiling."
His wife Gigi booked Criss his own jet for the trip home to the New Jersey shore, where bad feelings festered for more than a decade. Even Kiss' long-awaited induction into the Rock Hall in 2014 couldn't end on a harmonious note.
"I wanted to play so bad that night, and I know Ace did," he said. "And we didn't… I didn't get to end my career the way I wanted to end it. So now I'm doing it my way, kind of like Sinatra."
Criss did bring up the possibility of similar farewell concerts in other countries, following a successful show in Australia last month. However, nothing has been confirmed.
Despite his retirement from the stage, Criss plans on keeping busy. He's working on a half-finished rock album he started before fighting and beating breast cancer, as well as a jazz album, a children's book, and even a comedy screenplay he hopes will interest actor Ben Stiller.
But as for touring? Criss insisted that's over.
"I've been around the world 10 times," Criss said. "I can tell you what's on pretty much every menu in every hotel in all the world."
The Associated Press contributed to this report.