Perry receives lowest score on 'DWTS' season premiere, says experience is 'crazy good'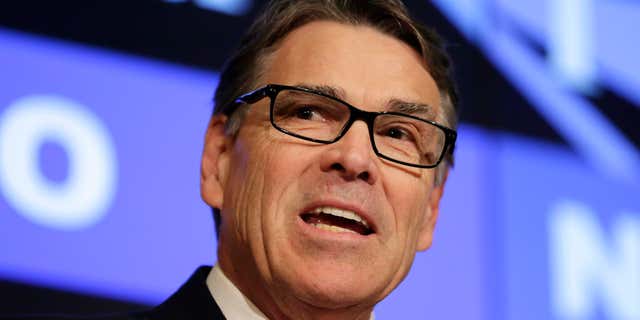 NEWYou can now listen to Fox News articles!
Is Rick Perry's campaign for the mirror ball trophy already over?
"Dancing with the Stars" judges gave the former Texas Governor and presidential candidate a disastrous score on the season premiere Monday night.
Perry got just 20 out of 40 points for his cha cha with dance partner Emma Slater for the lowest score of the night as 13 celebrities competed.
Meanwhile, Olympic gymnast Laurie Hernandez and her partner Val Chmerkovskiy and race car driver James Hinchcliffe and his partner Sharna Burgess tied for first with scores of 31.
Perry explained to "DWTS" cameras that he joined the show for a special reason: "My daughter's wedding is coming up so I need to look good on the dance floor for her."
His cha cha, set to the song "God Blessed Texas," featured Perry in a country fair style theme, complete with a faux corn dog stand. His daughter Sydney cheered him on from the audience.
After the dance, he told host Tom Bergeron that compared to the Republican Presidential debate he appeared in, "This is crazy good."
But then Judge Len Goodman told Perry, "It was a little bit pedestrian."
Julianne Hough said it was "so fun to watch. Definitely a little crazy at times….you messed up a little bit."
Bruno Tonioli said snarkily, in an apparent reference to Donald Trump (whom Perry has endorsed) that Perry's dance was "not exactly subtle. It reminds me of someone."
The four judges then gave Perry four "5" paddles in a row, and Perry yelled, trying to be a good sport, "5, I love you! Awesome!"
On the other end, Hernandez turned in a sparkling cha cha with her pro and told FOX411 afterwards, "I feel amazing. This is something that I've always dreamed of doing. Tonight was an exciting night for me."
Of her tie for first, she said, "I learned in gymnastics you don't just get medals handed to you, so we worked hard while we were dancing and came out here and really enjoyed it."
Indycar racer Hinchcliffe, with partner Sharna Burgess by his side, said of their foxtrot, "For whatever reason, it all just kind of clicked when it had to—it was lights, camera, action and we couldn't be happier."
As Fox411 previously reported, premiere night took a dark turn when two protestors against Ryan Lochte stormed the "DWTS" stage. They were later arrested.
The controversial swimmer and partner Cheryl Burke scored a 24 for their foxtrot but were so understandably rattled by the shocking incident that they did very little press after the show.
The other celebrities, who rallied around Lochte and Burke, had an easier time. Former football player Calvin Johnson, who grabbed 26 points for his cha cha with Lindsay Arnold, told FOX411, "It was fun. I felt this morning that we were going to do great…she got a smile out of me the whole time."
Former Taxi star Marilu Henner, who performed with returning pro Derek Hough, was more than satisfied with her score of 27 for the jive, saying, "We had a blast. You get so much energy from the crowd. I don't get nervous; I get excited."
Terra Jole, the first little person to compete on "DWTS," told FOX411 about her jive with Sasha Farber, "I felt like a whole ball of adrenalin was just rushing through my body.
"I really hope that I inspire people," said the "Little Women LA" star, who scored 25 points. "I just know what I came to do for myself and I hope that I can reflect positivity for other people as well."
Model and talk show hostess Amber Rose, who competes with returning "DWTS" icon Maks Chmerkovskiy, candidly said she "totally blanked out" during her foxtrot. They garnered a 24 score.
Rose, a former girlfriend of Kanye West, smiled about her previous background as an exotic dancer, "That didn't help me…whatsoever [tonight]…it was ten years ago. It was the best time of my life."
Amongst the other competitors, Vanilla Ice electrified the audience dancing cha cha to his hit "Ice Ice Baby for 25 points; former "The Brady Bunch" star Maureen McCormick got 22 for performing a Viennese waltz; actor Jake T. Austin was scored at 22 for his jive; Kenneth "Babyface" Edmonds grabbed a 26 for foxtrot; and country singer/actress Jana Kramer was super sexy in a Viennese waltz for a strong score of 27.