'Pawn Stars' get quizzed on new spinoff game show series 'Pawnography'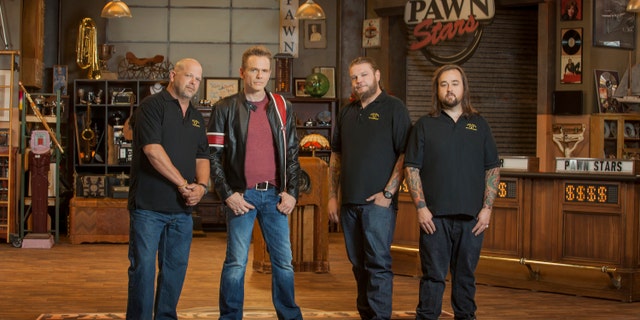 Fame can be fleeting—especially reality TV—fame and Rick Harrison of "Pawn Stars," is well-aware of that. He said that's one of the reason he, along with his son Corey and co-star Chumlee, opted to take History Channel into the game show genre with their upcoming series "Pawnography."

"The way I look at my current life, probably 10 years from now people will be sitting around going 'remember that show that had fat guys and a pawn shop?'" he told FOX411 with a laugh. "So I am trying to get the most out of my TV career now as I can."

The trio's new show features the core "Pawn Stars" cast minus Harrison's dad, a.k.a. "The Old Man." It pits contestants up against the reality stars and gives them a chance to win items from Harrison's personal prized collection from the Gold & Silver Pawn Shop.

"It's general trivia questions, most are historical," he explained. "The tag line is 'it's the only game show where we don't want you to win.' The contestants try to answer [the questions] and I am sitting there in a chair the whole time yelling at Corey and Chum."

In the early rounds of the show, contestants go up against the show's younger stars before facing off against Harrison—who viewers of "Pawn Stars" know is quite the history buff.

During the final round, the contestants and Rick each go into a soundproof booth and answer the same set of question, then without knowing how many they've each gotten right, Harrison tries to haggle with contestants over what their prize should be to save his favorite items.

"I don't know how well these people did and I'm not sure if I got all the questions right and it's not like any game show you've seen before," Harrison promised.

And if the show is anything like "Pawn Stars," it's sure to bring some laughs. Host and comedian Christopher Titus promised the cast of the hit show brought their sense of humor to new series.

"I think [viewers] are going to like how funny it is," Titus said. "The game show is great. You're learning the whole way in a funny way."

Most of the jokes during filming came when the guys started poking fun at each other, Titus said.

"What happened with me, Chumlee, Corey and Rick is [it's] like four jerk buddies hanging out," he said. "At one point me and Corey started writing jokes about each other."

Harrison said he expects the game show will resonate well with fans who are already hooked on "Pawn Stars."

"I would say tune in," he said. "You'll probably like, and if you don't like it turn it off. It's fun. If you're a fan of 'Pawn Stars' you'll probably like it."

"Pawnography" premieres July 10 on the History Channel.