Paris Hilton goes to Cuba, meets a Castro and posts everything on Instagram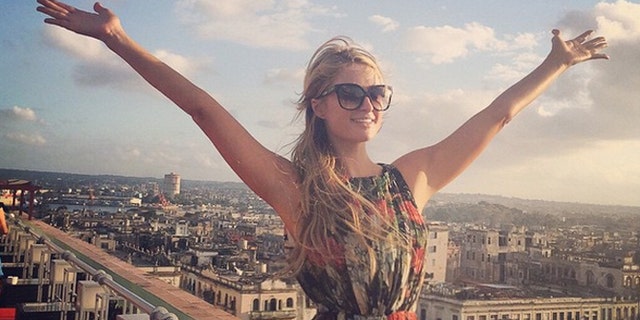 NEWYou can now listen to Fox News articles!
Paris Hilton is the most recent celebrity to take advantage of the thawing relations between the United States and Cuba and head down to Havana for some nostalgia and cigars.
The heiress of Hilton Hotels visited the Cuban capital over the weekend and has been documenting the trip all over Instagram.
"Posing in front of the original 'Habana Hilton Hotel' that my great-grandfather Conrad opened here in 1958," Hilton, 34, captioned the picture.
If any picture can truly capture the changing times between the two countries long divided by political differences, it's a selfie taken in the Communist nation by a scandalous socialite whose U.S. pop-culture background includes "The Simple Life," chihuahas with diamond-studded collars and sex tapes.
The Hilton Hotel was inaugurated at the height of the Fulgencio Batista regime. Shortly after Fidel Castro seized power, he nationalized the property renaming it "Habana Libre," the Spanish word for "free."
While in the Cuban capital, Hilton took the time to take in the sites and document some of Havana's iconic views.
She also participated in the 17th annual Cigar Festival with British supermodel Naomi Campbell and took some photos with Castro's son, Fidel Castro Díaz-Balart (who is Rep. Mario Diaz-Balart's cousin).
Hilton's trip comes just months after President Barack Obama announced the two countries would be working to restore diplomatic relations for the first time since 1961.
Currently Americans can travel to the Communist country for academic, religious or cultural programs, and the Obama administration is working on easing those restrictions.
Last week, officials from the two countries held their second round of talks in Washington, following a first round held in Havana in January.
Late night TV host Conan O'Brien filmed a special episode of his show in Havana last month that airs on Wednesday.
He told reporters that some of the highlights of the episode include learning to play authentic Cuban music, how to rumba and visiting a cigar factory where 400 virtuosos make cigars.
O'Brien found the architecture beautiful but, typically, in disrepair, while "the people couldn't be warmer and nice."
"They're very interested in how Americans feel about them," he reported. "I told them Americans disagreed on everything, but in polls about whether we should normalize relations with Cuba, we are overwhelmingly in favor of it. They were happy to hear that."
The Associated Press contributed to this report.
Like us on Facebook
Follow us on Twitter & Instagram