Ozzy Osbourne gets sobriety award, rewards crowd with bucket of water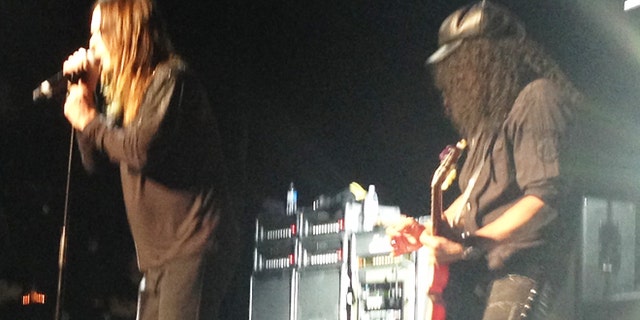 NEWYou can now listen to Fox News articles!
LOS ANGELES – Music bigwigs left Club Nokia in Downtown Los Angeles on Monday night soaked with more than sweat.
After receiving the Stevie Ray Vaughan Award at the 10th Annual MusiCares MAP Fund benefit concert for his commitment to helping individuals who have struggled with addiction , Ozzy Osbourne took to the stage to perform a few hits, but quickly decided the crowd needed to be woken up a touch.
A bucket of cold water? Check.
"You could look like you're having a bit more fun," he joked to the small - albeit wet and surprised - crowd, consisting in large part of music industry power players. "Was I really so bad all these years that they're giving me an award for being sober?"
The Black Sabbath singer went on to perform a number of popular tracks including "Iron Man," and "Paranoid," with guitarist Slash joining him on stage to conclude the night.
The honor was presented to Osbourne by Eagles guitarist Joe Walsh, who referred to the English rocker as "the grandfather of heavy metal."
Proceeds from the event will benefit the MusiCares MAP Fund, which provides members of the music community access to addiction recovery treatment regardless of their financial situation.
The MusiCares MAP Fund allows access to addiction recovery treatment and sober living resources for members of the music community as well as offering support groups for working and touring members.
Much praise was directed in the way of Osbourne who struggled with addiction for several decades, although no mention was made of his admitted drug relapse last year.
"He's never looked better or sounded better," Walsh told FOX411.
Also in attendance to acknowledge Osbourne's impact was heavy metal band Metallica.
"It's no secret that Ozzy has been a major presence throughout our entire lives and we are so humbled and honored to be with Ozzy for this special evening," the band said prior to their acoustic set.
Past MusiCares MAP fund benefit honorees include Steven Tyler, Alice Cooper and Chester Bennington.
Follow @holliesmckay on Twitter.