Oscar Countdown: Preparing for the Big Night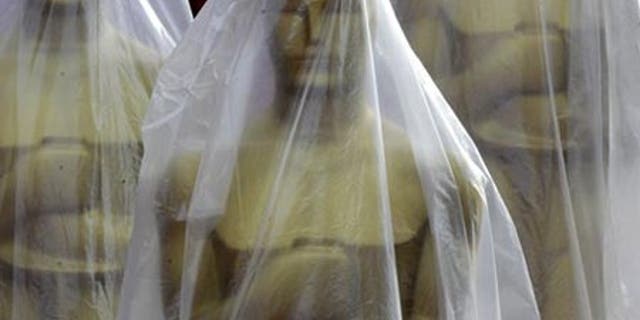 NEWYou can now listen to Fox News articles!
LOS ANGELES – Limos are out, hybrids are in. The Los Angeles Police Department shows off a pair of bomb-sniffing dogs along with some high-tech gear being used to keep security tight.
Also, a million-dollar shoe designer tones it down, and celebrities collect some swag while raising awareness of the arts.
Preparations started early Sunday morning in Los Angeles as the 81st Annual Academy Awards were set to kickoff later in the day.
___
SUNDAY DRIVER: Meryl Streep will be going green — literally — to the Oscars.
The best actress nominee is expected to be chauffeured to Sunday's ceremony in a silver 2010 Toyota Prius, according to the Environmental Media Association. The new hybrid model won't launch until later this spring, making the "Doubt" actress the first woman in America to take a ride in the new energy efficient vehicle.
___
TIGHT SECURITY: With eyes in the sky and noses on the ground, Los Angeles police say they're ready to keep Sunday's Academy Awards ceremony safe.
Police Chief William Bratton told reporters Friday that national and city law enforcement officials didn't know of any credible threats aimed at the ceremony. But to make sure it stays that way, officers are deploying some high-tech crime-fighters.
And Aya and Rex, a pair of bomb-sniffing dogs.
The German Shepherds sat patiently as police officials described LA Shield, a helicopter-mounted device that helps officers better coordinate ground and air patrols units near key locations, such as the Kodak Theater where the Oscars are handed out.
Security at the awards show is always tight, with the city closing streets and a subway stop. Academy officials are also working to ensure no ticket-crashers gain entry to the show.
This year police will also deploy a high-tech imaging system that can spot terrorists wearing suicide bomb vests or plastic explosives that might slip through a metal detector.
Leaving nothing to chance, Aya and Rex will also walk a beat on Sunday.
___
TO BLING OR NOT TO BLING: Because of the not-so-glitzy economy, shoe designer Stuart Weitzman decided to forego his annual tradition of sending a one-of-a-kind pair of heels decked out with $1 million worth of gems down the red carpet on an up-and-comer's feet. Weitzman said such an extravagant display would not be appropriate this year.
"There are things that are right, and there are things that are not right. This year, we have chocolate shoes," Weitzman said pointing to a table of candy replicas at his suite at The London West Hollywood, where stylists were stopping by Thursday and Friday to pick up shoes for celebrity clients.
"You know how the old saying in retail goes: 'Sometimes you have to eat your inventory,'" he said.
Last year, the fancy-footwear designer chose "Juno" screenwriter Diablo Cody to wear specially designed $1 million diamond-encrusted shoes to the ceremony, but Cody caused furor, calling the selection "a cheesy publicity stunt." She opted to wear a pair of simple gold flats under her flowing Dior leopard print dress instead.
Weitzman hopes his "big fan" Angelina Jolie, the best actress Oscar nominee who previously donned nude Weitzman heels to the Screen Actors Guild Awards and the Golden Globes, will again wear a pair of his shoes Sunday.
___
SWAG TIME: Oscar time is swag time in Hollywood, and gift suites in Beverly Hills were bustling Friday.
The Haven suite, held at a private hillside home with views of downtown L.A., offered couture gowns, anti-cellulite treatments, fancy handbags, eyelash extensions and vacuum cleaners — all while raising awareness for the arts.
Stars who visited the suite were invited to record public service announcements for the Creative Coalition in support of federal funding for the arts.
"The point is to use the spotlight of entertainment and the spotlight of celebrity to focus on the arts and funding for the arts," said Robin Bronk, executive director of the Creative Coalition, a 20-year-old nonprofit group attached to the entertainment industry.
Paula Abdul picked up a Charlie Lapson evening bag, fellow "American Idol" judge Kara DioGuardi grabbed Foster Grant sunglasses, and "90210" star AnnaLynne McCord reveled in the pampering treatments.
"This week has been absolutely crazy," she said. "It's nice to be here and relax a little and be a girl for five minutes."