Omarosa Manigault walks out on black journalist convention after uproar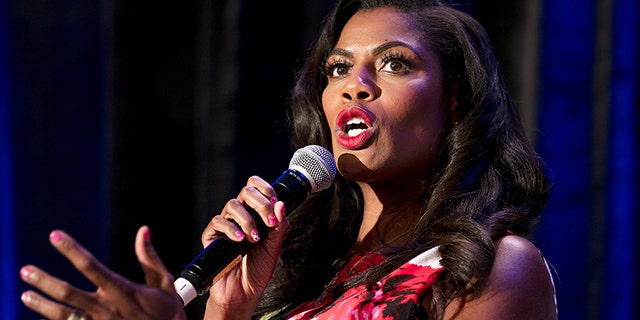 Omarosa Manigault walked out of a panel at the National Association of Black Journalists convention in New Orleans Friday night after it devolved into chaos as attendees turned their back on the Trump administration aide and "Apprentice" star in protest.
Manigault took part in a panel discussion on police brutality, engaged in angry exchanges with moderator Ed Gordon and then walked off the stage in disgust, according to reports.
Attendees tweeted photos showing people standing with their backs turned to Manigault as she spoke.
She talked about the murders of her father and brother but things went south when Gordon of Bounce TV asked her about what she was doing to advocate on behalf of blacks and Trump's recent comments on policing in which he seemed to be encouraging police brutality, according to The Associated Press.
Gordon stepped toward Manigault as he questioned her. She accused Gordon of being "aggressive."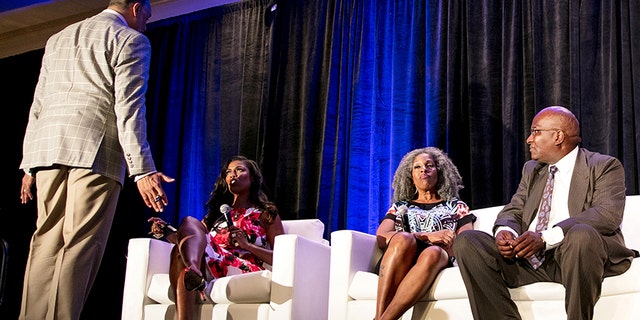 "When you have someone in the room, you don't beat the hell out of them," she told a packed ballroom. "You inform them of what's going on in the community so they can be an advocate. You don't walk away from the table because if you're not at the table, you're on the menu."
TMZ posted video shot as Gordon and Manigault got into it.
 
Manigault interrupted Gordon as he tried to ask her how she could sit in "a White House with a man who clearly is sending a signal to this country that" police don't have to treat suspects gently.
"I did my best to keep this civil as possible," Gordon said after Manigualt said she didn't want to hear the question.
"If you want to ask about the loss of my father and my brother and the issues I do, ask about my story," she said. "I'm not going to stand here and defend every single word and statement. Ask questions about me or my father and brother."
Pressed on Trump's comments and the topic of policing, Manigault said, "It's not even part of my portfolio," The New York Times reported.
"I'm not going to stand here and defend everything about Donald Trump," she said, according to the paper, adding that the remark was greeted with loud sighs.
Two would-be panelists, reporters from The New York Times and the New Yorker dropped out when Manigault was added to the panel at the last minute, according to a report Friday.
Manigault walked off the stage when Gordon said it was a "quagmire" that had "reached the point of diminished returns," according to The Times.
He ended the event by joking, "I'll see y'all at the White House Christmas Party in December" the paper reported.
The NABJ told Fox News via email on Saturday, "As an organization of professional journalists, NABJ seeks to have candid and frank conversations with newsmakers. For years, the NABJ has invited the White House administration to partake in the annual convention. We appreciate that the Director of Communications for the White House Office of Public Liaison Omarosa Newman is participating this year and has come to share her perspective on issues that are critical to our members, and moreover, critical to the communities that we serve."
The Associated Press and Fox News' Diana Falzone contributed to this report