Olympic fans confused, upset with NBC for not airing historic figure skating moment in prime-time broadcast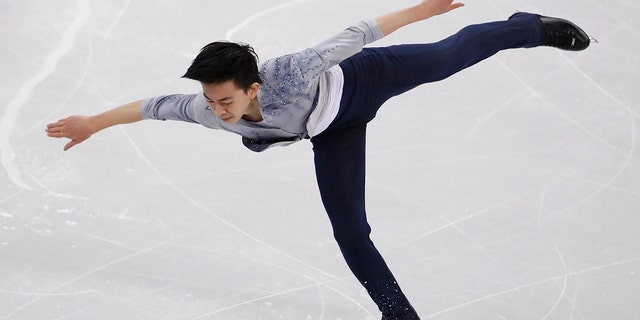 With everyone excited to tune into NBC's coverage of the men's figure skating competition on Thursday's prime-time broadcast, they were upset to see skiing on the network rather than the record-setting performance by American skater Vincent Zhou.
Early in the evening, 17-year-old Vincent Zhou of California became the first person to land a Quad Lutz at the 2018 Pyeongchang Winter Olympics. Countless people took to Twitter to voice their support for the Olympian, but others were shocked to turn on their TV and find skiing rather than skating, as the prime-time listing for NBC advertised.
Commentator Johnny Weir explained to fans that all 30 of the men competing in the skating competition would be broadcast on NBC Sports Network, with highlights to be shown at a later time on the regular network. Unfortunately, many fans didn't get the note and were disappointed to find that not only were they unable to see the skating competition, they didn't even have NBCSN access at all.
"I just wanna watch mens short program," one user wrote. "The fact that I have to pay to watch an event @nbc is ELECTING to not show because they deem another event more important is ridiculous. If I miss any of my favorite skaters i will LOSE IT."
"For some reason NBC thinks I want to watch Skiing or some such rather than ice skating. Well, they're wrong… so wrong," another user said.
"I'm aware," one user wrote when told where to find the broadcast. "I'm not paying for cable just to get NBCSN. I get it's a lot of sport to cover, but an American lands a quad lutz in the short program and they are showing video montages of Norwegians lifting weights. Makes no sense."
It's worth noting that, although the prime-time broadcast missed Zhou's performance, it managed to capture American skier Mikaela Shiffrin winning the gold medal in the women's giant slalom event.
The skating portion of NBC's broadcast did not begin until after 10 p.m. ET, leaving viewers on the East Coast angry about the late showtime.
On Friday morning, skating fans were cranky and aired their anger over how late the broadcast went.