Olivia Wilde's mom Leslie Cockburn loses Virginia congressional race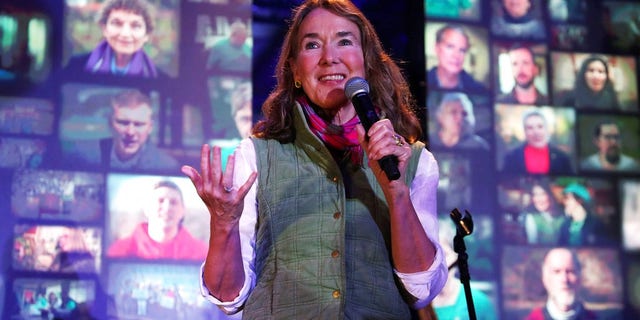 Actress Olivia Wilde's mother, Leslie Cockburn, lost the Virginia congressional race on Tuesday to her opponent, who she once accused of aligning with white supremacists and dubbed a "devotee of Bigfoot erotica."
Cockburn, who was running as the Democratic candidate in the state's 5th Congressional District, lost to Republican Denver Riggleman by 6.6 percentage points. Riggleman will take over the congressional seat from Republican incumbent Rep. Tom Garrett, who did not seek re-election.
The 5th District stretches from northern Virginia to the North Carolina line.
In an Instagram post, Wilde acknowledged her mother's lost and thanked supporters.
"My incredible mother speaking to her supporters, thanking them for their tireless work, and urging them all to stay determined. We may have lost this fight, but it's only made us more resolute. It's time to roll up our sleeves and get to work. A lot of progress was made tonight and we need to keep the blue wave rolling! I'm sending all my love to everyone who worked on this campaign. You restored my faith in this country," she wrote along with a photo of Cockburn addressing a crowd.
Wilde, who helped rally for votes at events during the campaign, also penned a heartfelt post earlier Tuesday saying she was proud of her mother.
"As we wait for the votes to come in, I just want to say I'm proud of you and I love you. Thanks for showing us what's possible. No matter what happens, you changed my world and healed my heart," she wrote.
Cockburn, a former "60 Minutes" producer, was inspired to run after the deadly Charlottesville rally, Wilde previously said. The Democratic candidate accused Riggleman in July of campaigning with a white supremacist.
"My opponent Denver Riggleman, running mate of Corey Stewart, was caught on camera campaigning with a white supremacist," she tweeted. "Now he has been exposed as a devotee of Bigfoot erotica. This is not what we need on Capitol Hill."
Riggleman is a distillery owner and Air Force veteran. He previously wrote two books about Bigfoot — one titled "The Mating Habits of Bigfoot and Why Women Want Him." He previously told USA Today the books were parodies.
"It has nothing to do with Bigfoot erotica," he said.
The Associated Press contributed to this report.