Olivia Munn Upset President Obama Hasn't Legalized Same Sex Marriage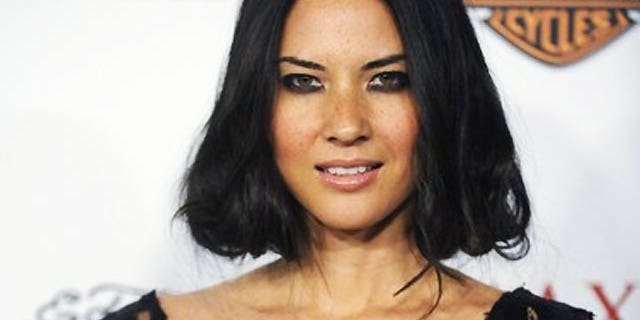 LOS ANGELES – Television personality Olivia Munn is more than just a pretty face and hot body – this girl has got a voice, and isn't afraid to use it in showing her disgust towards our president for not legalizing gay marriage.
"It's ridiculous and I'm really upset that Obama, as a black man, and all the things that African Americans have gone through after being oppressed, has said 'you're less than' and cannot stand up and say marriage is a union between two individuals who love each other," Munn told Pop Tarts last week. "I just think everyone should be allowed the same rights – if they want to exercise them, they can and if they don't, they don't."
Gay rights issues aside, the 29-year-old is also particularly passionate about animal rights and recently posed for what's being touted as a "nude" PETA campaign encouraging people to "Boycott the Circus" with claims of elephant abuse.
"When you look at these elephants that are being chained up and they're being shocked, if you have the ability to speak up and stand up and fight for animals and other people who can't do it themselves, you can't just turn away," Munn said.
But the sexy stunner was also quick to point out that she actually wasn't naked in the PETA shot.
"I actually didn't get naked," she said. "I haven't gotten naked ever. I was wearing a tank top and boy shorts but I am comfortable with it appearing that way. There is nothing wrong with the naked body, but I wasn't naked on the set. I wouldn't be comfortable."
And after her many adventures in Hollywood, Munn is in the process of writing a "David Sedaris-inspired story" filled with somewhat comical anecdotes of her life in the television industry. And by the sound of things, it too will be something you just can't turn away from.
"It goes from finding my first agent in Hollywood – he asked me to house-sit for him and ended up walking me through the house, he showed me this collage and said if there was one thing he would take in a fire it would be this… I'm looking at it and yeah, it was a collage of (his girlfriend's private parts)," Munn said. "Thankfully he passed me off to another agent quickly… I (also) talk about all the douchey people you meet in LA, and I give great dating advice to guys and girls. One of my biggest tips for guys is to pay!"
Additional reporting by Deidre Behar.