Oliver Stone likens drug film 'Savages' to 'Wall Street'; stars say they learned a lot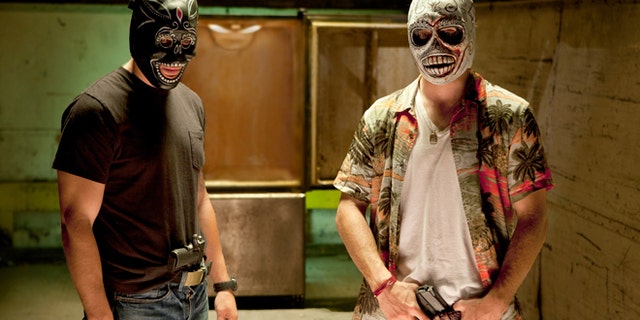 LOS ANGELES – Oliver Stone's new crime thriller "Savages," based on Don Winslow's novel of the same name, tells the dramatic tale of two California marijuana growers going to war with a Mexican drug cartel.
"It's like a business takeover film, like a 'Wall Street,' but a lot of violence," the controversial director told FOX411's Pop Tarts column at the Los Angeles premiere. "(Audiences) can learn a lot, but it's not 'happening.' It is not a documentary. This situation in California is still cool, its calm, yet the drug war is building up to a huge monstrosity. We have quite a bit of rough stuff, but nothing like the reality."
Speaking of reality, Stone noted that there are things that the U.S. Government can do to help improve the situation.
"The U.S. could take the pedal off Mexico, we could always decriminalize the appetite, because prohibition doesn't seem to work," he said.
[pullquote]
Mexican-born actor and Oscar nominee Demián Bichir, who stars in the film, hopes that audiences walk away with a stronger understanding of the War on Drugs.
"It will teach you one thing; this is not one country's problem. This is not a problem that just concerns Mexico. This is a problem that relates to two kinds of people, two countries that share the same border. This film speaks clearly about that," Bichir said. "(The U.S. Government) has to do more. Even if Mexico keeps doing its job, there are a lot of things that need to be fixed over here."
Co-star Blake Lively said that even though she grew up in Southern California, she was not aware of the extent of the drug war until tackling a role in "Savages," and actor Taylor Kitsch hinted that what we read in the news may not tell the whole story.
"I would follow the news on my little iPad every morning over coffee, and I thought I was up to date, but once you are immersed the way we were allowed to be immersed into this, I had no idea what was actually happening, and the background of these people," he told us. "It is an amazing thing to be exposed to at this level."
And although Lively's peace-lovin' character in the movie dates two best friends at one time and winds up as bait for the cartels, she insisted that the role gave her a strong sense of female empowerment.
"It's such an exciting character for me, and as a young woman you don't often get a character that has such an incredible journey and arc and experiences so much. They're often just the prize for the men," she added. "But in this movie, the women are the ones in power. That was cool."
John Travolta, who plays a corrupt DEA agent in Stone's highly-anticipated flick, walked the red carpet at the star-studded premiere. But amid the mounting gay sex scandal, rumors, lawsuits and accusations that have surfaced (and been denied by his camp) in recent weeks, it was no surprise that the smiling "Grease" star didn't stop for chats on his way into the theater.
But he did kiss his wife Kelly Preston for all photographers and press outlets to see.