Oksana Grigorieva Could Face More Legal Trouble Than Mel Gibson, Expert Says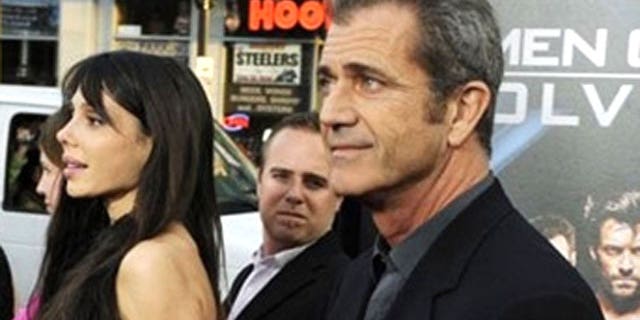 NEWYou can now listen to Fox News articles!
LOS ANGELES – The scandalous saga between Mel Gibson and his former flame Oksana Grigorieva continues to grow uglier and more complicated with each passing day.
While most of the heat has been thrust upon the A-list actor, given the release of those expletive-ridden recordings and allegations that he hit both Grigorieva and their baby daughter Lucia, the tables now seem to be turning with many questioning the accuracy of the Russian songstress' highly-damaging claims.
Grigorieva alleges that Gibson knocked out a tooth and veneer amid one of their heated domestic disputes back in January – but according to TMZ, her dentist Dr. Ross Sheldon, begs to differ.
His medical charts and records apparently show no evidence of a strike to the mouth and demonstrate that her teeth were fully in tact, however Sheldon reportedly observed a bruise on her left temple which may have caused her to bite down incredibly hard and subsequently lose one veneer and damage another.
FOX411: Mel Gibbons not given to violent behavior, getting new girlfriend, zoo says.
On that note, it seems that this bitter custody battle is impacting more people than just Gibson and Grigorieva – the dentist could now be faced with serious legal consequences of his own. Grigorieva reportedly told Sheldon at the time of the incident that Gibson had harmed her, however he failed to report this to authorities. Under California law, health practitioners are under obligation to file a police report if they have reasonable grounds to suspect "[assault] or abusive conduct against a spouse or cohabitant."
"The dentist could now potentially face problems with the Dental board, and action could be taken against his medical license," explained California Defense Attorney, Steve Cron.
SLIDESHOW: Mel Gibson's Ex Oksana Grigorieva
Grigorieva also alleges that the 54-year-old film star struck their then two-month-old daughter Lucia, and Radar Online reports that there are photos showing the infant's bruise under seal at the Los Angeles Superior Court. But so far, there is no indication that the 39-year-old mother actually took Lucia to a pediatrician to ensure that no further damage had been done, and if she did, no police report was filed.
Just a couple of weeks prior to this alleged incidence of violence, Grigorieva told Pop Tarts that Mel had advised her to "prepare to be judged" and to "maintain her equilibrium" as she pursued a showbiz career.
OPINION: What's Still Waiting for Mel Gibson?
However, if – and it is a big if – Grigorieva is proven to have manipulated the details regarding Gibson's actions of abuse and thus filed a false police report, or if she edited the secretly recorded tapes of Gibson ranting as his camp asserts, she could be in severe trouble.
"The conflicting stories surrounding Oksana's teeth creates some question around the credibility of all her claims, and could question her credibility when it comes to visitation and custody," Cron explained. "Gibson could then potentially file a civil lawsuit for slander or defamation, but, most likely, we wouldn't want to drag this out any further."
An insider connected with those working on the investigation predicted that due to the complexity of the case, it could now take up to six months before it is taken to the District Attorney.
"Police are going over this with a fine tooth-comb, and Oksana will have a lot of explaining to do," said our source. "Also the DCFS did not rush over to Mel when her police report was first filed, which may suggest they had reason to believe the child was not in serious or immediate danger."
Reps for Gibson declined to comment on the situation. Grigorieva's attorney did not respond for comment.
Furthermore, Gibson's legal counsel has reportedly met with police to present evidence in an attempt to prove Grigorieva threatened to extort her ex – in exchange for ten million dollars; she would not release the tapes.
"It is starting to look more and more like a good old-fashioned shake down for money," added Hollywood image consultant, Michael Sands. "We all know Mel is a childish name caller as those tapes have proved, but that's very different to being a violent monster. Something just isn't right here."