North West revealed! Kanye West shows off his daughter on Kim Kardashian's mom's show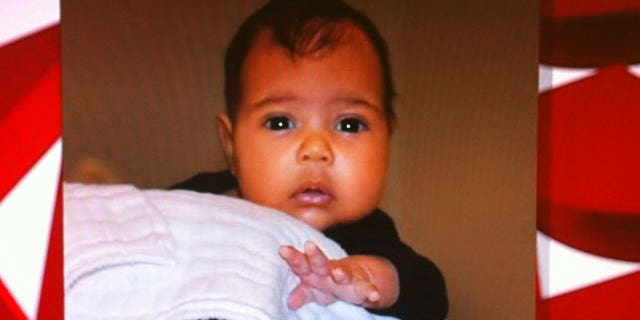 The wait is finally over.
The world finally got its first glimpse of Kanye West and Kim Kardashian's daughter North, when Kanye himself unveiled her first baby photo on Kris Jenner's daytime talk show Kris.
"I thought it would be really cool, like on her grandma's show, to bring a picture of North," he said before the big reveal, confirming that the couple has not tried to profit from the sale of the first baby pictures "in any way."
Pics: Kim Kardashian's Baby Shower Photo Album
Kanye also gushed about his love for Kim throughout the interview, in what's clearly the most candid he's been on their highly scrutinized relationship. He said that it was love at first sight when he first spotted the E! reality star.
"I remember seeing pictures of her -- I think she was in Australia with Paris Hilton or something -- and reading her name and telling my friends like, 'Man, have you ever seen Kim Kardajon?'" he laughs, remembering his mispronunciation of her famous last name. " ... She was my dream girl. I remember being so nervous around her, and just in awe that she was actually in front of me. ... I was in love with her before I even got to, you know, ever talk to her."
And just how much was he infatuated with Kim?
"I wanted to be with her so bad that I thought about picking up sports," he joked, referencing Kim's past relationships with professional athletes.
Kanye also addressed some of the criticism he's faced by being involved in Kardashian projects, such as appearing on "Keeping Up with the Kardashians" and choosing to do an interview with Kris.
Pics: Five Years of Kim Kardashian Fashion
"I think the example of me even coming on this show, people -- they feel that somehow -- my girlfriend's mother and I are of different brands in a way," he said. "And it's not about anybody being at odds. It's about all of us helping each other and improving each other."