Nicole 'Snooki' Polizzi denies meatball in the oven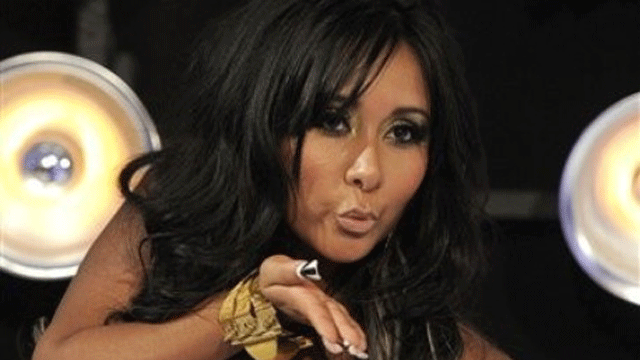 "Jersey Shore" star Nicole "Snooki" Polizzi is not pregnant, she tells Fox411.
The pint-sized star said, "When I first heard it this morning, I thought everyone is thinking I'm fat or something," she told us. "Like, am I gaining weight again? I'm not pregnant, so am I fat now? … There's a lot of rumors."
Snooki's response was to a report from Star magazine that she isexpecting her first child with boyfriend Jionni LaValle, according to an insider.
"She is pregnant and has only told her closest friends and some family," an insider said.
The source also said the Polizzi, 24, has been hinting that she "has a big announcement coming."
Polizzi added to the speculation in a recent posting on her Twitter account.
"Late night craving...yogurt hits the fricken spot ! Mmmmmm," Polizzi tweeted on Jan. 25.
Snooki's rep told E! News that the report is false and that the MTV star is not pregnant.
But Star won't hear of it. According to the tabloid, Polizzi's upcoming spin-off show with fellow "Shore" personality Jenni "JWoww" Farley is going to be in for changes due to her alleged pregnancy.
"[MTV] are having to redo the creative direction of her spin-off because of her pregnancy," it was reported.
The spin-off also hit a snag yesterday after Hoboken Mayor Dawn Zimmer denied a request for MTV to film in her city.
The New York Post contributed to this report.
Go to NYPost.com for more celebrity news.