New survey shows Fox News more trusted than MSNBC, CNN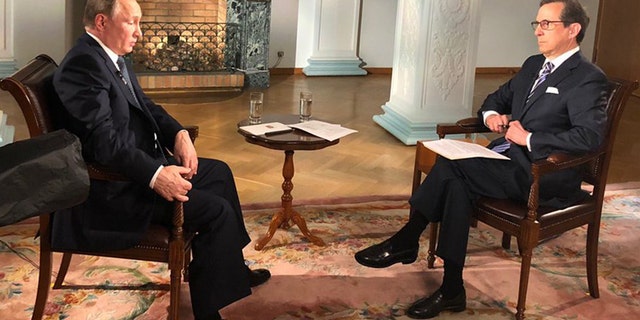 Fox News was ranked the "most trusted" American TV news brand in the United States, and was second overall, behind only the British-based BBC, according to a new study.
The Research Intelligencer study, conducted via Brand Keys, analyzed 4,012 viewers who rated both broadcast and cable news organizations that they watch at least three times per week to determine how those brands resonated from a trust standpoint. Ninety percent of the viewers surveyed said they trusted the BCC, with 87 percent saying they trusted Fox News.
PBS finished third with 86 percent, followed by Bloomberg and MSNBC, to join BBC and Fox News among the five most trusted TV news brands, according to the study. The three major broadcast are listed next, with CBS's 72 percent topping both NBC and ABC.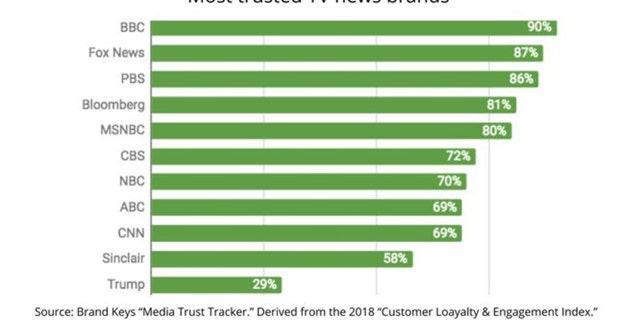 CNN, the news organization President Trump regularly mocks as "fake news," finished behind its cable news rivals with only 69 percent of participants saying they trust the network.
DePauw University professor and media analyst Jeffrey McCall told Fox News the study is a fair indication of how viewers feel about news organizations.
"A key to this study is that it assesses viewers who watch a channel three-plus times a week. Thus, unlike some studies, it gets input from people who actually watch and know something about the channel they are rating," McCall said. "Some studies of media credibility have respondents assessing channels they don't watch and of which they have little real experience.
"My guess is that many right-leaning people don't trust MSNBC, but never watch it. And the same is likely true for left-leaning news consumers who don't trust Fox News, but have seldom, if ever, watched it to know one way or the other."
Brand Keys is a consultancy that aims to help companies grow with marketing, customer engagement and consumer assessments. The analysis drew from the 2018 "Customer Loyalty and Engagement Index," which examined 1,287 brands across 150 categories to explore how much "trust" factored into a brand's success.
McCall says CNN, ABC and NBC should ponder the results closely, as their scores indicated that "a solid majority of their viewers trust them, but it also shows a good number of people who watch them three-plus times a week are not fully trusting."
The study also included Trump as a "brand," and just 29 percent of participants deemed the commander in chief trustworthy. The dismal percentage on the trust meter for Trump indicates the survey was not aimed at the president's supporters, who would presumably prefer Fox News over liberal networks such as MSNBC and CNN.
"As President Trump has assailed news (of all varieties) as 'Fake News,' and more recently, 'the enemy of the people,' Brand Keys was interested to see how much 'trust' viewers actually had in the president, versus the TVs brands," Brand Keys president Robert Passikoff wrote.
Brand Keys will conduct a similar study examining newspapers in the coming weeks.
The study coincides with July's cable news ratings. Fox News finished as the most-watched cable news network for the 199th straight month, with MSNBC and CNN following, in that order.
Fox News averaged 2.4 million prime-time viewers in July, compared to 1.7 million for MSNBC and only 891,000 for CNN. Fox News' total day average viewership of 1.4 million eclipsed its cable news rivals, as MSNBC averaged 921,000 viewers and CNN averaged an audience of 638,000 in July.