New Jersey town rejects permit for 'Jersey Shore' spinoff show over public safety concerns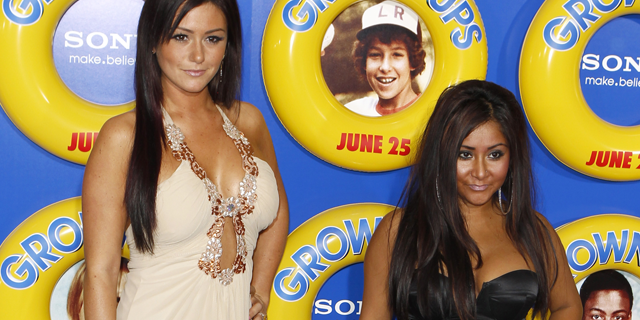 "Jersey Shore" stars Nicole "Snooki" Polizzi and Jenni "J-WOWW" Farley are not welcome in at least one New Jersey city.
Hoboken Mayor Dawn Zimmer said Tuesday on the city's website that a film permit request for a spinoff starring the two "Shore" guidettes had been denied.
The decision was made "based on protecting public safety and quality of life concerns for Hoboken residents," Zimmer wrote.
In a letter to Jim Bianco, one of the producers of the as-yet-untitled spinoff, she said he had a right to appeal the decision, but warned him against trying to film without permits as he had admitted to doing in another New Jersey town.
"I write to put you, 495 Productions, MTV and Viacom on formal notice that there will be zero tolerance for this kind of approach in the City of Hoboken," she said. "Any attempts to film in a manner that is not permitted without a permit will be dealt with immediately and aggressively."
The cast of the popular MTV reality series has gotten in trouble both in New Jersey and abroad while filming.
Ronnie Ortiz-Magro was indicted on an assault charge stemming from a 2009 fight seen in the first season of the show, while Polizzi was banned from driving in Italy last year after crashing into a police car while filming the fourth season in Florence.