New 'Dance Moms' coach Cheryl Burke says girls were 'traumatized' by Abby Lee Miller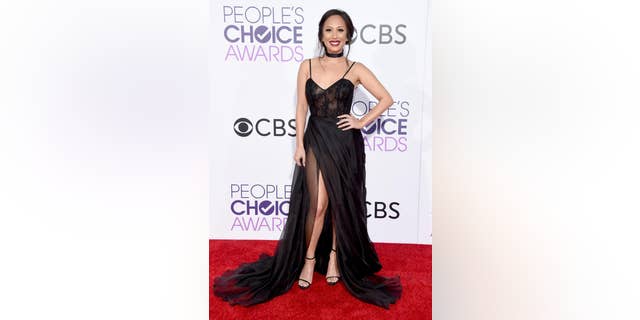 As controversy continues to swirl around former "Dance Moms" coach Abby Lee Miller, her replacement Cheryl Burke is speaking out.
On May 9, Miller was sentenced to one year and a day in federal prison for bankruptcy fraud. The shocking legal news came just weeks after Miller had quit "Dance Moms," complaining on social media that producers had "manipulated, disrespected and used" her.
The Lifetime show hired ex-"Dancing with the Stars" pro Burke to finish out "Dance Moms" season 7 as the young dancers' teacher for several episodes which will air later this year. (No premiere date has yet been announced)
After an exhibition performance on Monday's "DWTS," Burke told reporters her teaching style will be much different from Miller's on "Dance Moms."
Burke revealed, "It's going great. The girls are so precious and I feel like they're traumatized from what has happened with Abby and it's important for me to still be strict and do what I do and I expect nothing but the best from the girls but it's also important for me to make them feel confident about themselves because they're all beautiful, they're all talented.
"They all want to move on and do other things and it's important that they all have the right head on their shoulders and they don't ever walk in a room with their head down, feeling like they aren't good enough," she said.
Burke returned to "DWTS" on Monday night to perform an emotional routine from her upcoming nationwide "Love on the Floor" dance tour.
And afterwards, Burke told reporters "Dance Moms" viewers might see her feuding with the reality show moms "in a different way" than Miller did, "because I come from the original dance mom. My mom was a crazy dance mom herself and the hardest part is to separate yourself. It was important for me if they want to be there, outside, on the couch talking and gossiping, then that's fine but they can't just barge into my room. They have to ask for permission."
Burke noted, "I think that's kind of what happened with Abby is they butt heads so much that the focus wasn't on the girls. It was on the moms."
The longtime "DWTS" pro, who was on the ABC show for 19 seasons and won the mirror ball trophy twice, said she didn't seek advice from Miller.
"I ran into her a couple of times before I even knew I was doing the [Dance Moms] show but I don't agree with her teaching methods. I don't. I mean, I'm strict. I say it how it is as you've seen me on Dancing with the Stars but I was just being myself and I think within that that caused a lot of drama between the moms and the girls and with me," Burke said.
"You live in this bubble and these girls are not yet ready for the real world and that's what I'm scared of—that they have been pushed down to the floor so much that they'll never be independent."
When asked by FOX411 her feelings about Miller's recent sentencing, Burke said, "It is what it is. I really have no comment about that."
But Burke said Miller's sentence won't be part of the show because "we wrapped a couple of weeks ago. I think the girls are just trying to focus on them. I know the moms are probably not sad about it. That's all I'll say."
Miller implied in an interview with Entertainment Tonight that Burke would be treated differently and might get a bigger budget for the Lifetime reality show.
Burke told reporters, "That's BS. No. There's no way. I don't think so. I can't put the numbers together, obviously, but this was a quick turnaround for them to have me be part of 'Dance Moms' and I think everyone has been treated equally on that show. It really is about getting about the job done. It's bigger than numbers and budget….you want to do it for the girls. It depends on where your heart is."
While she's going to be busy with her upcoming dance tour, Burke also didn't rule out a return to "DWTS."
"I was back last season with Ryan Lochte and I think if it's the right time and the right moment, I would definitely come back," she said after the "DWTS" taping.