Naya Rivera Dishes On Her Lack Of Spanish, Wants To Improve For When She Has Kids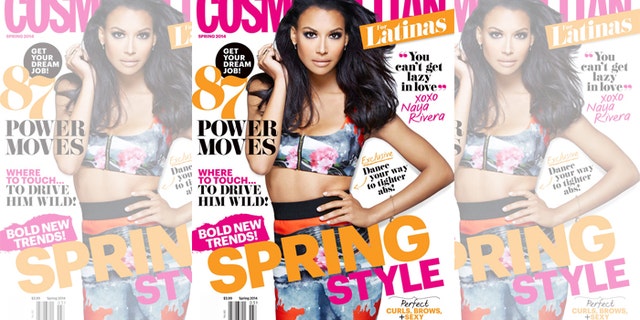 Naya Rivera plays lesbian Latina ex-cheerleader on FOX's hit show "Glee," and while she has said handful of phrases in Spanish during the show's five seasons, that seems to be as far as it goes for the actress speaking the language.
The 27-year-old actress, who is half Puerto Rican, told Cosmopolitan for Latinas spring issue, in which she graces the cover wearing a floral bra shirt and matching skirt, that she understands Spanish more than she can actually speak it.
"It sucks because I have no one to [speak Spanish] to, but it's something I need to learn when I have kids. They need to be fluent," Rivera told the magazine.
Rivera, who in previous interviews admitted to struggling with determining her identity – Rivera is also part German and Native American – she has solidified herself as a Latina role model for millions around the world.
In the magazine, Rivera recalled how her being half Puerto Rican sort of helped her get a date with her now fiancée Big Sean. She said the rapper's assistant, an avid "Glee" fan who also happens to be Puerto Rican, alerted him about her.
"She told him, 'I'm Puerto Rican, she's Puerto Rican; it sounds like you'd have so much fun with her,'" Rivera recalls.
She said Big Seas – whose name is Sean Anderson, 26, – watched an episode of the show, liked what he saw and send her a private message on Twitter.
"Even though he has the verified check mark, I kept thinking, this could be a fan. I have to be careful what I say," Rivera said, initially skeptical Anderson was the real thing.
The rest is history. Fast forward less than a year later and Rivera is more confident in her hubby-to-be and cannot stop gushing about him.
"I think he's going to be an amazing husband, and he'll make a great father someday," she said "He's so kind to people, but he also wears the pants in our relationship, which I love. We Latinas are very independent and strong, so it's even sweeter that I've found somebody who can let me out of that role for a minute."
Rivera, who recently shot the 100th episode of "Glee," is preparing for her upcoming role as wife, indulging in her domestic side.
"Latinas are really great nurturers who are great to our men; we love hard and we love to cook," Rivera said. "The other morning I woke up and was like, 'I need china — this table needs to be set all the time!' Focusing on those things is where I'm at right now."
Follow us on twitter.com/foxnewslatino
Like us at facebook.com/foxnewslatino