MTV Movie Awards: Cameron Diaz Gives Award to Alexys Nycole Sanchez; Eva Mendes Spoofs "Twilight" Saga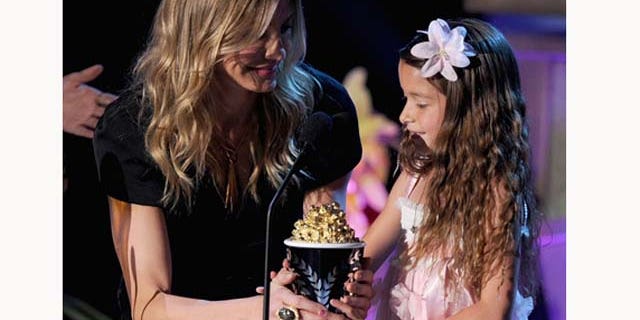 Alexys Nycole Sánchez stole the show at the 2011 MTV Movie Awards by winning an award for her classic line "I want to get chocolate wasted" in last year's comedy "Grown Ups."
The child actress, who acted alongside Hollywood heavyweights Salma Hayek, Adam Sandler and Chris Rock, was presented the "Best Line From A Movie" award by Cameron Díaz.
"First of all I want to thank my friends, my family and my fans for voting for me," the four-year-old said like a grown up herself. "I want to thank Debbie my manager for doing all the hard work she has done and most of all I want to thank God."
In the film, Sánchez plays Becky Feder, the daughter of Salma Hayek's character Roxanne Chase-Feder.
"I want to thank all the people from "Grown Ups" for letting me in the movie," Sánchez added. "You are so fun! And I want to get chocolate wasted!"
Meanwhile, Eva Mendes and Saturday Night Live actor Jason Sudeikis kicked off show with a short spoof imitating scenes from two major blockbusters: "The Hangover" and "The Twilight Saga: Eclipse."
Mendes was shown waking up drunk in a bath tub from a wild night out with a tattoo on her right cheek saying "Team Jacob 4 Ever."
"I'm team Edward!" Mendes yells in the skit. "I've always been team Edward!"
You can reach Alexandra Gratereaux at: Alexandra.Gratereaux@foxnewslatino.com
or via Twitter: @GalexLatino
Follow us on twitter.com/foxnewslatino
Like us at facebook.com/foxnewslatino