Milo Yiannopoulos sues book publisher for $10 million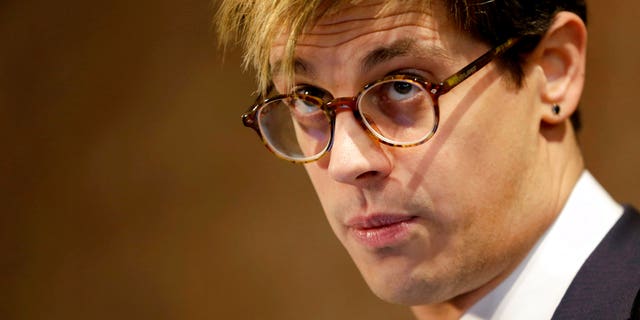 Outspoken former Breitbart editor Milo Yiannopoulos has filed a $10 million lawsuit against publishing house Simon & Schuster after it canceled his book deal.
Yiannopoulos announced the lawsuit Friday in New York, just days after he self-published the Simon & Schuster-canceled memoir, "Dangerous."
The controversial writer told Fox News that the timing of the lawsuit aligning so close to the release of his book is "largely coincidental" and that "any suggestion that this lawsuit is solely designed to drum up publicity is completely wrong!"
MILO YIANNOPOULOS RESIGNS FROM BREITBART NEWS
Yiannopoulos had previously mentioned his intent to sue the publishing house.
The lawsuit, which Yiannopoulos provided a copy of to Fox News, claims that Simon & Schuster "wrongfully, and in bad faith" canceled the author's book deal and violated the contract following outrage from people who disagreed with Yiannopoulos' views.
"When S&S told my agent they were dumping the book I was shocked," Yiannopoulos told Fox News via email. "The termination letter said the manuscript was no good -- but as recently as one day earlier, in calls, emails and texts, they'd told me how great it was! I knew there was more to it. I wasn't in a position to fight them then, but I am now. They breached the contract, so they have to pay up."
Yiannopoulos was reportedly paid $80,000 of his $255,000 book advance, according to The Hollywood Reporter.
MILO YIANNOPOULOS: BERKELEY RIOT 'SELF-DEFEATING FOR THE SOCIAL JUSTICE LEFT'
Yiannopoulos resigned from Breitbart News earlier this year after video clips of him surfaced in which he appeared to defend sexual relationships between boys and older men. Yiannopoulos has since blamed deceptive editing and his own "sloppy phrasing" for any indication that he supported pedophilia.
Simon & Schuster dropped Yiannopoulos' book shortly after his comments surfaced.
Yiannopoulos self-published "Dangerous" on Amazon on July 4. It became the top bestseller and top new release on the website, according to Publishers Weekly. Yiannopoulos' outside public relations firm told Publishers Weekly that the 100,000 copies of the memoir that were delivered to Amazon sold out in the first day.
RIOTERS BREAK WINDOWS, SET FIRE TO FORCE CANCELLATION OF BREITBART EDITOR'S UC-BERKELEY TALK
Yiannopoulos said his fans remained positive following the announcement of his lawsuit.
"The response from my fans has been overwhelmingly positive. They love seeing a conservative with cojones finally standing up to the liberal establishment."
Simon & Schuster did not immediately return a request for comment.
The Associated Press contributed to this report.