Miguel Tweets Fan Is Okay After Billboard Awards Accident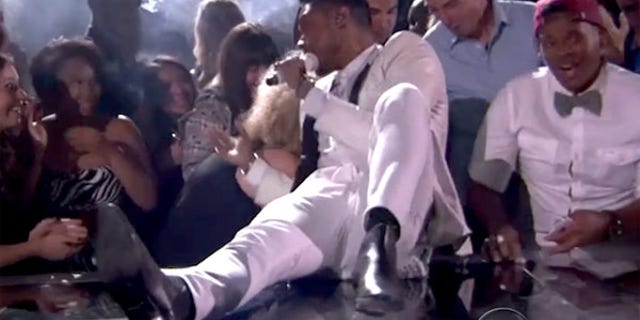 Miguel shocked everyone during the Billboard Music Awards on May 19, when he accidentally landed on two young women during his performance. But the singer is taking to Twitter to assure fans that despite the alarming moment, no one is badly injured.
Miguel is really lucky that no one was seriously hurt when he decided to leap into the crowd during his Billboard Music Awards performance on May 19. The 27-year-old was singing his hit song "Adorn" and decided to heat things up by jumping into the crowd but that's when things went really wrong.
Miguel Tweets Fan Is 'Okay' After Billboard Awards
Miguel landed on a fan's neck and another fan's head during his performance and everyone was watching it on repeat. It was incredibly shocking and one of the women looked as though her head slammed back onto the stage and the other woman grabbed her head in pain. It was painful to watch.
But Miguel took to Twitter to say: "got caught up in moment, thank goodness Khyati is okay." Phew, we're glad to hear she's not hurt but let's hope he learned a valuable lesson on what not to do during a live performance!
– Chloe Melas
More Billboard Music Awards Moments:
Miguel Crushes Two Fans Necks During Billboard Awards
Selena Gomez & Taylor Swift React To Justin Bieber's Win At BBMA
Jennifer Lopez Performs 'Live It Up' At 2013 Billboard Music Awards