Michelle Rodriguez says being bullied as a teen inspired role in 'Milton's Secret'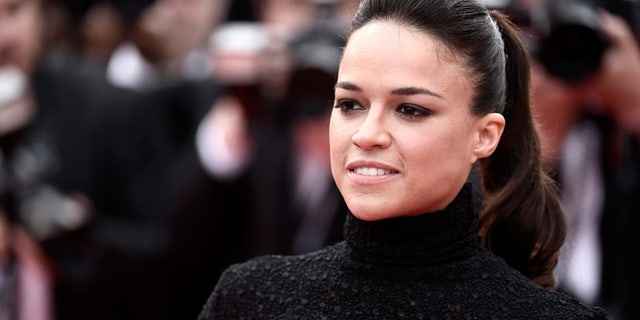 NEWYou can now listen to Fox News articles!
Michelle Rodriguez might be most comfortable playing the biggest badasses in Hollywood films, but her journey there started by being a victim of bullying.
The "Furious 7" told the Hollywood Reporter that she decided to join the movie "Milton's Secret," about a young boy being bullied, because of her experience growing up.
"I was bullied as a kid, but I dealt with it a lot differently, because I was at a different level growing up in Jersey City," Rodriguez said at the film's premiere at the Vancouver Film Festival, adding that she had to learn to fight "really early" as a result.
"If you didn't adapt, you die – or parts of your soul would be crushed," she said. "People were just really mean in Jersey City."
In the film adaptation of Eckhart Tolle's and Robert S. Freidman's 2008 children's book of the same name, the 38-year-old actress plays a schoolteacher who helps lift the spirit of a young boy who is the target of bullying by classmates.
Rodriguez told Entertainment Tonight that her outlook on life change as a teenager in New Jersey, which is why she serves as an advocate for anti-bullying.
"I'm more sensitive now, because I've always been a very tomboyish … I just never gave a f--- about words," she said. "Now I understand that I have to respect words, and words are powerful, and they are dangerous, and they hurt people."
"Milton's Secret," which also stars Donald Sutherland, David Sutcliffe and Mia Kirshner, hit selected theaters Sept. 30 and is available on demand and online.
Like us on Facebook
Follow us on Twitter & Instagram