Michael Moore says he's working on 'secret project' involving Trump, Roseanne Barr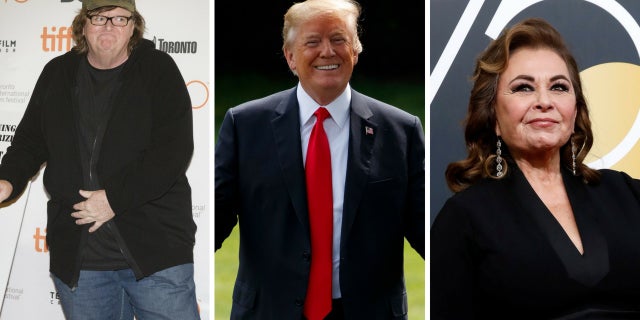 NEWYou can now listen to Fox News articles!
Director Michael Moore announced Wednesday that he has been working on a secret project for months that involves President Trump and Roseanne Barr.
Moore posted a clip on his Twitter of Barr's short-lived talk show, "The Roseanne Show" from the late 1990s, that featured Trump and Moore. The three were discussing Moore's documentary "Roger & Me." Trump praised Moore's film and called it "terrific."
"It's terrific, I tell you, I love what he did," Trump told Moore. "If I was Roger, I wouldn't have liked it but I enjoyed it. I hope he never does one on me though."
JOHN GOODMAN GIVES FIRST REACTION TO 'ROSEANNE' CANCELLATION
The audience was heard laughing at Trump's remark before the clip ended. Moore captioned the post, "I know Roseanne. And I know Trump. And they are about to rue the day they knew me…"
On Moore's website, he announced that he has been "working on a secret project for the last few months." No further details were available.
OUTRAGE AS SAMANTHA BEE CALLS IVANKA TRUMP A 'FECKLESS C---,' SAYS SHE SHOULD 'PUT ON SOMETHING TIGHT AND LOW CUT'
Moore has highlighted Trump in his documentary "Michael Moore in Trumpland." He also said his new film, titled "Fahrenheit 11/9" would cover Trump's presidency but the project was in limbo following the fall of Harvey Weinstein and the Weinstein Company, The Guardian reported.
Moore's announcement comes days after ABC canceled the reboot of "Roseanne" following Barr's racist tweet likening former President Barack Obama adviser Valerie Jarrett to a cross between the Muslim Brotherhood and a "Planet of the Apes" character.