Michael Douglas Opens Up About His Stage Four Cancer to David Letterman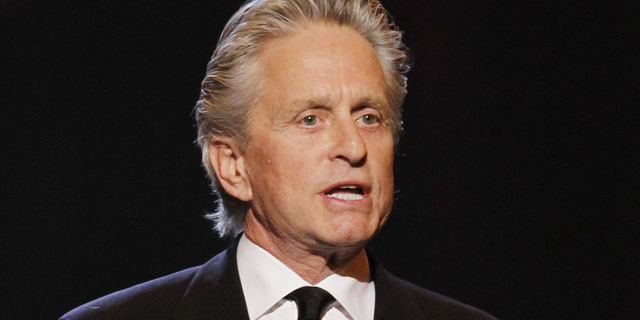 NEWYou can now listen to Fox News articles!
Michael Douglas opened up to David Letterman about his recent diagnosis with throat cancer, saying he has an 80 percent chance of recovery.
During an appearance Tuesday on David Letterman's "Late Show," the actor said he had just finished his first week of radiation and chemotherapy. That drew a surprised reaction from Letterman.
"You've never looked better to me, and this proves that you're a tough guy, for God's sakes," the talk-show host said, drawing cheers from the studio audience.=
"Let's just say ... I'm pretty lit up right now," Douglas replied.
The 65-year-old actor said his cancer remains above his neck and has not spread, which gives him a better chance at recovery.
Douglas, a former smoker, had complained of an intense sore throat earlier this year and had undergone testing that failed to find a cause. A later biopsy revealed late, stage-four cancer, which he described as "intense."
Douglas has just completed the first of eight weeks of radiation and chemotherapy. In the coming weeks, he told Letterman his voice may change and he could lose his ability to swallow solid food.
Meanwhile, celebrities are gathering in Hollywood for the star-studded telethon "Stand Up to Cancer."
The telethon will air on September 10 on FOX,ABC, CBS, NBC and other networks and will feature stars like George Clooney, Will Smith, Denzel Washington and Gwyneth Paltrow.

Performers include Green Day's Billie Joe Armstrong, Neil Diamond, The Edge, Herbie Hancock, Lady Antebellum and Leona Lewis.
The telecast will raise funds that will accelerate cancer research. A 2008 telecast raised more than $100 million for cancer.
The Associated Press contributed to this report.