Meryl Streep and Tommy Lee Jones draw uncomfortable laughs in 'Hope Springs'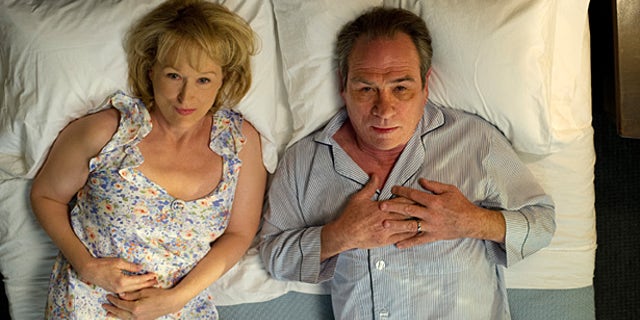 The doctor will see you now.
Meryl Streep and Tommy Lee Jones are irresistible in the drama "Hope Springs." They are a match made in movie heaven, even if we have to watch them uncomfortably sew their sex life back together in this 90-plus minute therapy session.
And ultimately "Hope Springs" is just that: a therapy session. Don't be fooled by the trailers that depict this as a silly comedy; director David Frankel ("The Devil Wears Prada," "Marley & Me") instead provides an intimate look at empty nesters who have drifted so far apart they've become sad, hollow strangers.
Cole Porter told us that bees do it and birds do it, but Kay (Streep), a timid housewife and her stubborn, curmudgeonly husband Arnold (Jones), do not anymore. But instead of contemplating divorce, Kay guilts Arnold into traveling to Maine for a week of couple's counseling. Arnold is as stingy, obdurate and introverted as they come and vocally protests at any and every emotional encounter.
Steve Carell plays the boutique marriage counselor who pokes and prods into Kay and Arnold's sex lives (or lack thereof) to help them reconnect. He assigns tasks for Kay and Arnold to reanimate their dormant physical and emotional love life. These assignments range from kissing to holding to caressing to more risqué scenarios.
Vanessa Taylor's screenplay is at times poignant and naturally uncomfortable. The comedy here doesn't stem from dialogue or gags, but from the relatable awkwardness of stepping out of one's comfort zone, especially when discussing sex, hidden desires and raw emotions. Laughs are few and far between but when they come they are sprung from Streep's and Jones' wonderfully uneasy and highly un-erotic "love" scenes. Yet, Jones and Streep make all that discomfort look absolutely charming.
You can do yourself a solid and save some money on future therapy sessions by letting Meryl Streep, Tommy Lee Jones and Steve Carell guide you. Streep and Jones both give their most realistic performances here. Jones is remarkably natural and subtle as Arnold. His trying and expressive journey from introvert to openly loving husband is some of his finest acting. Streep, again, is radiant, here donned in floral outfits and a tinny mid-western accent. She is as sublime playing the average American woman as transforming into the former British Prime Minister.
"Hope Springs" is a mature, bold undertaking for a summer comedy. The performances by Streep and Jones alone are a must-see.