Meghan Markle's royal engagement ring inspires $40 copy sold online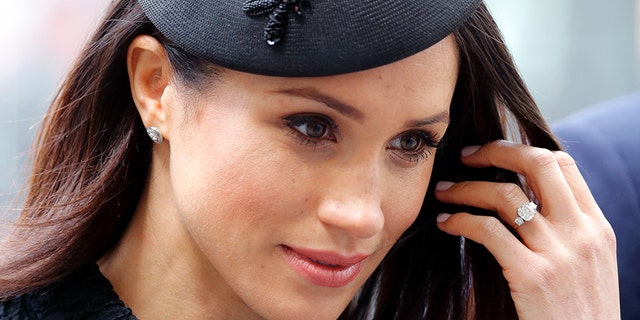 Meghan Markle fans can now imitate the Duchess of Sussex with a flick of the wrist.
The new royal's engagement ring from Prince Harry has inspired a £30 (approximately $40) adjustable one you can buy online from The Royal Collection Shop.
The Instagram account for the Buckingham Palace gift shop is promoting the product and shared a snap of the item on Monday.
Dubbed the Buckingham Palace Statement Ring, the piece features a large center stone and two smaller stones on each side.
MEGHAN MARKLE AND PRINCE HARRY REPORTEDLY ENJOY SECRET WEEKEND AWAY IN AMSTERDAM
"This three crystal ring is made of sparkling crystals set on palladium plated metal," the Royal Collection Shop said online.
The real ring was designed by Prince Harry and nods to his mother, Princess Diana, who died in 1997.
"The ring is — is obviously yellow gold because that's... her favorite and the main stone itself I sourced from Botswana and the — the little diamonds either side are from my mother's jewelry collection to make sure that she's with us on this — on this crazy journey together," he told the BBC last year.
SERENA WILLIAMS ON MEGHAN MARKLE FRIENDSHIP: 'WE RELY ON EACH OTHER A LOT'
Markle, 37, and Prince Harry, 34, camped in Botswana early in their relationship. They eventually married on May 19 at St. George's Chapel at Windsor Castle.
Other jewelry items have been designed with the famous ring in mind, too.
The Royal Collection Shop is also selling a necklace featuring a similar three-stone design - the £30 (about $40) Buckingham Palace Statement Pendant - and a £25 (approximately $35) pair of Buckingham Palace Statement Earrings.
Fox News' Katherine Lam contributed to this report.