Meghan Markle's nephew says he's not invited to royal wedding
NEWYou can now listen to Fox News articles!
Meghan Markle's nephew has not yet received an invite to her highly anticipated wedding to Prince Harry.
Tyler Dooley, the son of Markle's half-brother, told "Good Morning Britain" he hadn't gotten an invitation — though the invitations were mailed out last week.
The Oregon native appeared on "Good Morning Britain" with his mother Tracy, who is divorced from Thomas Markle Jr. The mother-son pair said the royal-to-be used to babysit Tyler and his brother Thomas but they harbor no hard feelings over being left off the guest list.
Tracy said, "I don't think we are getting invitations, but that is fine, we are so proud of her."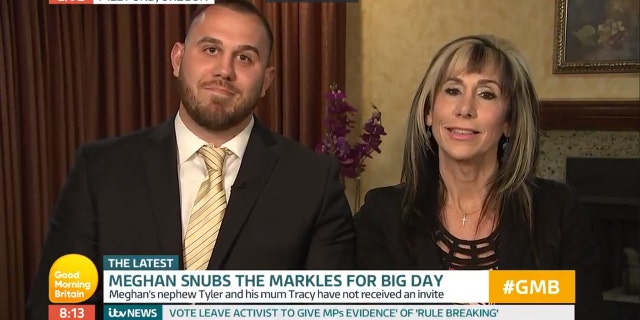 Tyler added he last communicated with the former "Suits" actress three years ago and it as an "honor" to see her become part of the royal family.
Tracy also addresses rumors that Markle's father will walk his daughter down the aisle.
"I've heard that he's going to be over there and I'm sure that he will be giving her away. The arrangements are being made," she told the news outlet.
While Tracy and Tyler will not be attending the nuptials, they are planning on traveling to England as part of "Good Morning Britain's" royal wedding coverage.