Meghan Markle's family drama causing a stir among Londoners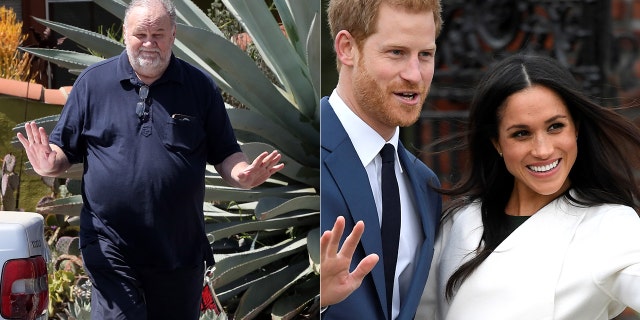 LONDON – Meghan Markle's father caused a stir when he stated he would not be attending his daughter's wedding to Prince Harry as planned, and the rumors surrounding the Markle family are creating a buzz among Londoners, many of whom feel the father of the bride is being treated unfairly by the public.
Sanjana Varjhese, a university student, told Fox News she thinks the pressure being put on Thomas Markle ahead of the wedding has reached a tipping point.
"There shouldn't be this much intense media scrutiny on people who have done nothing... I think [her family] have been subject to a lot of scrutiny... There's been a lot of digging into her family and I don't think it's been fair. I think it's quite horrible," she said.
The drama with the "Suits" star's father all began when the Markle patriarch seemingly arranged to have paparazzi pictures snapped that showed him preparing for the May 19 wedding at Windsor Castle. After reports surfaced that claimed he was paid for the images, Markle revealed in a media report he had a heart attack and would no longer be attending the royal wedding. On Tuesday, TMZ reported he would undergo heart surgery and skip the wedding, despite earlier reports that same day that claimed he wished to attend.
Prince Harry and Meghan Markle have asked the media to give her family space.
"This is a deeply personal moment for Ms. Markle in the days before her wedding," Kensington Palace told Fox News in a statement Monday. "She and Prince Harry ask again for understanding and respect to be extended to Mr. Markle in this difficult situation."
Some Brits think Thomas Markle has faced unfair criticism. Jack Schneider told Fox News he believes royal handlers should have worked to train the Markle family for the type of media exposure headed their way.
"I pity the guy," he said. "This guy has been bombarded… under all this pressure."
He noted that Thomas Markle has lived a secluded life in Mexico and was likely unprepared for the rush of interest that came when his daughter with Doria Radlan became engaged to England's most eligible bachelor. The American actress' parents divorced in 1988.
Maria, 60, who declined to give her last name, said Meghan Markle's half-siblings, Samantha Grant and Thomas Markle Jr. have caused more trouble than their father.
"I really think that it's a disgrace, definitely. I really think that they have taken advantage of the situation and have embarrassed Meghan," she said. "[What's] worse [than] having a few pictures that were posed is what the sister is doing..."
Referencing the media interviews the siblings have given and Grant's tell-all about Meghan, she added, "The sister and the brother are making stuff up… I would never buy that book."
Locals told us despite the drama, Markle should walk his daughter down the aisle if it turns out he is able to.
"Of course I think he should come. It's his daughter's wedding," said Schneider.
Maria, of Chelsea, agreed.
"The bottom line to me -- whether he took money [for the paparazzi photos] or not -- is did she have a close relationship with her father? And did she want him to walk her down the aisle? If she really wants it and she has a good relationship with her dad he should come and walk her down the aisle [if he can] whether he got paid for the pictures or not."
Varjhese said simply, "If it matters to her if [her father walks her down the aisle] that's something she is dealing with privately. I don't think if affects anyone besides her."