Meghan Markle's estranged half-sister Samantha compares Prince Harry to a hamster in slamming birthday tweet
NEWYou can now listen to Fox News articles!
Meghan Markle's estranged half-sister, Samantha Markle, is lashing out against Britain's royal family once again.
The former actress' husband, Prince Harry, turned 34 on Saturday and Samantha quickly took to social media to snap back at the royal family's silent treatment on her father, Thomas Markle.
"Harry Birthday Harry!" the 53-year-old tweeted, as reported by E! News Monday. "As you 'mack down' on your birthday cake, think about the birthday wishes you never extended to your FATHER-IN-LAW."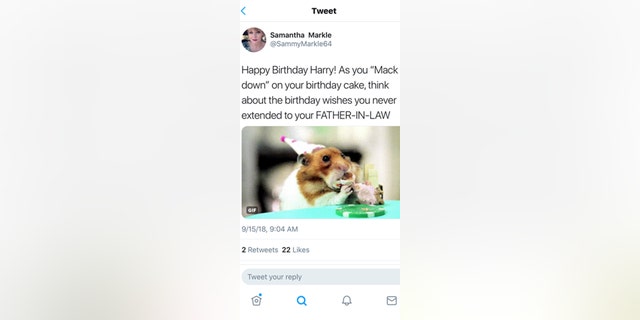 Samantha tweeted her statement above a photo of a hamster with reddish fur, which mimicked Harry's mane, holding a piece of cake and a poker chip.
E! noted this hasn't been the first time Samantha wished the royals a happy birthday in her own way.
On Markle's 37th birthday, which was on Aug. 4th, Samantha took to Twitter to convey a similar mesage.
"Happy Birthday Meg!" Samantha tweeted. "It would be so lovely and appropriate of you to send DAD a BELATED birthday card for his July 18th."
Samantha added, "Act like a humanitarian act like a woman! If our father dies I'm holding you responsible, Meg! @KensingstonRoyal."
In a separate tweet, Samantha compared Markle to "Cruella Deville."
Markle's frustrated father has also recently lashed out against the royal family.
In late August, Thomas spoke to the media again and shared some harsh words for the high-profile household his famous daughter married into.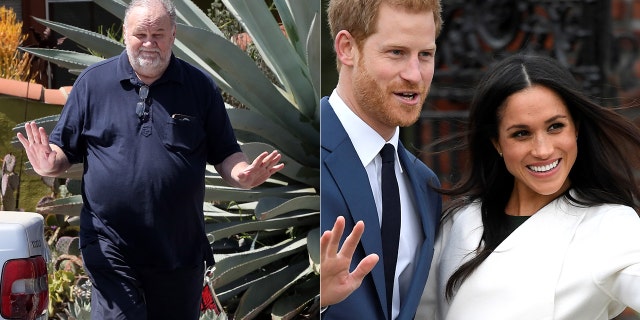 "They are either like Scientologists or the Stepford family," the 74-year-old told U.K.'s The Sun from his Rosarito, Mexico, home. "If they hear anybody say anything they just lock the doors.
"They need to speak up! They are cult-like — like Scientology — because they are secretive. They close the door, pull the shades down and put their fingers in their ears so they don't have to hear."
Thomas claimed that Prince Harry, as well as the rest of the royal family, have stayed silent since he began giving tell-all interviews about Markle.
"Maybe they have a secret handshake too!" he exclaimed. "You cannot ask a question of them — as they won't answer."
Thomas told the publication he has tried to encourage the couple to contact him after three months of silence. They reportedly have not spoken since the high-profiled wedding at Windsor Castle in May. The patriarch claimed he has been completely cut off.
He also dismissed reports that he was trying to get money from his daughter.
"I worked hard to provide for my children," he said. "I'm their father, I don't expect them to pay me back."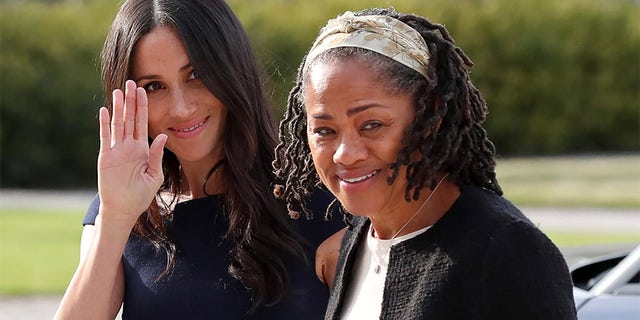 Thomas laughed off a claim that he was launching a clothing line for men, which was first made by Samantha, in a tweet.
"It is just a joke," he said. "The only clothesline I have is the one I hang on my shirts on to dry."
Just days before Markle walked down the aisle in front of millions to marry Harry, she announced her father wouldn't attend the royal wedding following his heart surgery.
"Sadly, my father will not be attending our wedding," she said in a statement released by Kensington Palace. "I have always cared for my father and hope he can be given the space he needs to focus on his health.
"I would like to thank everyone who has offered generous messages of support. Please know how much Harry and I look forward to sharing our special day with you on Saturday."
Kensington Palace then announced Markle would be walked down the aisle by Prince Charles, Harry's father.
Thomas' surgery followed days of press surrounding his health and speculation on whether or not he'd attend the royal wedding.
He also stirred headlines when it was revealed he staged paparazzi photos that showed him preparing for the big day.
Back in January, Samantha told Fox News she and her family are new to the spotlight and it can be difficult to cope with the worldwide interest in their personal lives.
"As much as I love and respect Meg, she's got security and a publicist and can be protected from all that," said Samantha. "She and Harry can tell the media to stop. The rest of the family doesn't have that luxury. I love her, [but] she may not want me saying anything.
"I refuse to be a victim of the media. I'm not going to let them disparage me, embarrass me personally and professionally and not defend myself… I can only hope she would respect and understand that… In fact, if I were Meg, I would probably put something out there so that there was some sort of protective mechanism in place where the family couldn't be tortured as much."