Meghan Markle reveals her due date: report
Meghan Markle gave fans more insight about her pregnancy during her first joint engagement of the year with Prince Harry on Monday.
Markle spoke to fans during a walkabout in the town of Birkenhead, Merseyside and told a woman she was due in late April or early May, HELLO! Magazine reported. She also told another person she was currently six months pregnant.
PHOTOS: MEGHAN MARKLE BEFORE THE FAME
Kitty Dudley, 9, told the U.K. magazine she asked the Duchess of Sussex if her first baby with Harry would be a girl or a boy.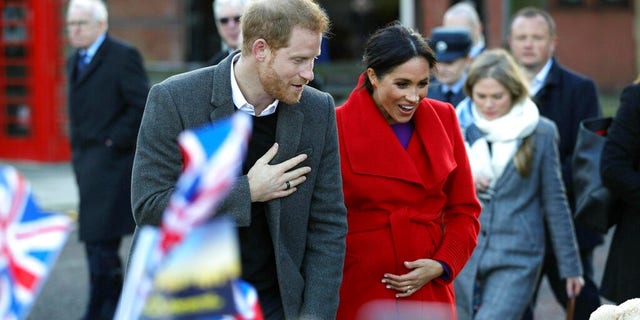 "I asked her if she was having a girl or a boy and she said she didn't know," Dudley said.
Markle, 37, and Harry, 34, stepped out Monday for their first official engagement of the year. The Duke and Duchess of Sussex visited local organizations that support groups in the community.
Markle wore a purple dress from Babaton by Aritzia and a red coat by Sentaler. She finished the outfit with Stuart Weitzman Nouveau suede pumps and a brown purse. Harry wore a gray coat over a blue sweater and pants.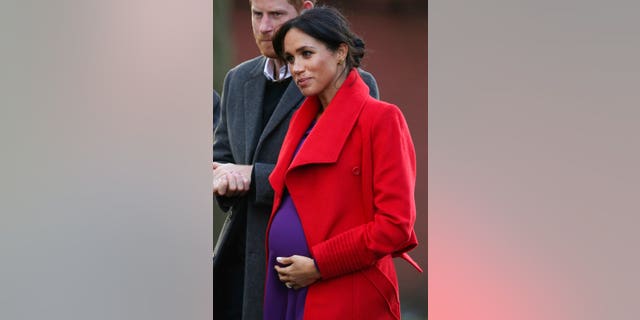 CLICK HERE TO GET THE FOX NEWS APP
Kensington Palace announced in October the couple was expecting their first baby, five months after they tied the knot at St. George's Chapel in Windsor Castle. The initial statement said Markle was due in spring 2019.