Meghan Markle, Prince Harry wedding slammed by some locals: 'What a waste of money'
NEWYou can now listen to Fox News articles!
LONDON – Meghan Markle is marrying the man many have called England's favorite prince, but not everyone is overjoyed by the upcoming union.
"What a waste of money, public money," one British airline worker, who declined to be named because she was on the job, told Fox News. "There's bigger things happening in the world. There's a lot more things happening that are more important than [the royal wedding]."
She added she was not looking forward to seeing the streets of London decorated with royal wedding memorabilia.
"Tacky stuff everywhere, tacky teacups and tacky things, that's the trouble," she said with a grimace. "Lots of tourist stuff."
ROYAL WEDDING COVERAGE: THE LATEST NEWS
A colleague of hers said he thinks interest has waned since the days of Princess Diana among those who don't follow the royal family closely.
"I'm not a royalist. It's fun that there is going to be an event, and things like that -- they always bring the country together, you know -- but I… remember Charles and Diana's wedding from 1981 and then we had Andrew and… Fergie, and then we had Edward and Sophie, and each time the interest goes down and down… Society is very different from when I grew up back in the '70s… It was very insular in 1979, 1980, the royal wedding was an immense thing. But rightly the world has opened up and now [people] have their eye on other things."
Corrine Look, 23, said she is frustrated by the reported expenses of the royal wedding, which is estimated to cost a staggering $45 million, according to Business Insider. Kensington Palace has stated the royal family will pay for the "core aspects" of the wedding, but just the extra security at the event in the town of Windsor is estimated to cost millions of dollars.
"Why am I paying for some rich people to live? It makes no sense," she said with a laugh.
Her friend Martha Henley said the royal family isn't of much interest to many young people today.
"I feel like people outside of the U.K. think the monarchy is more important to us than it is. It's never really mattered to me. I hope they are very happy and I don't wish them any ill will, but I also don't think we should be paying for their wedding. That's when it becomes problematic for me… I struggle to see the relevance."
The female airline worker said in her circle the response to Markle has been tepid at best.
"All the men think she's beautiful and the women don't trust her," she sneered. "She's beautiful so that's why she gets [the positive attention]."
Pete Ruig, a university student, said he had no intention of tuning in for the royal wedding on Saturday.
He added he was most put off by reports that the members of the British public and representatives of various charities that are invited to the festivities have been told to pack a picnic lunch. Kensington Palace has said some light refreshments will be available.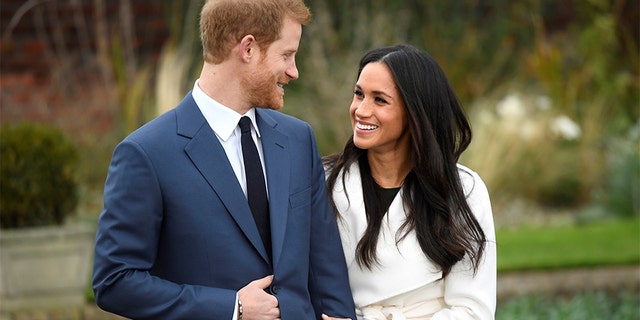 "Everything that is wrong with the monarchy is completely encapsulated in the idea that you're invited to the royal wedding and you have to bring your own food," he declared. "It's kind of strange that you've invited these people with extra virtues that have excelled in a charity and how do you reward them? Not giving them food."

Still, royal expert Leslie Carroll, who has written six books about the royals, said the majority of the British public is not against the union.
"Apart from the hideous racial trolling that we've seen… I think that's a minority… I think they're going to be widely accepted," Carroll said of Harry and Markle as a couple.
Student Lana Abirached told Fox News that while in younger circles in London the monarchy is somewhat unpopular, she thinks the royal family represents something bigger in England's smaller cities.
"I think it has meaning," she said of Markle's upcoming marriage to the prince, "maybe not in the sense that it has political meaning, but it's in the identity of the country."
The 22-year-old added she thinks the fact that Markle is biracial is a step forward for the monarchy that many see as "outdated."
Carroll said the union is impactful for those who scrutinize Queen Elizabeth.
"Queen Elizabeth broke a lot of her own rules. Queen Elizabeth is a lot more forward thinking than a lot of people think she is, in addition to wanting her grandson to be happy. She knows she is obviously not going to be around forever. She is far more embracing and tolerant [than people think]," Carroll explained, pointing out that Harry's father Prince Charles, and his wife Camilla, have welcomed Markle.
"Charles seems to be very happy with Meghan and when the engagement was announced Camilla actually said 'America's loss is Britain's gain.'"