Media slamming Trump after Putin summit: 'One of the most disgraceful performances by an American president'
The media came down hard on President Trump following Monday's joint press conference in Helsinki with Russian President Vladimir Putin, with pundits and anchors on both sides of the political aisle bashing the American leader's performance.
Trump was primarily criticized for the way he handled questions about allegations of Russian meddling in the 2016 U.S., claims that have been paired with allegations Russia and the Trump campaign colluded to win the election. Trump said he raised the issue of election meddling during their one-on-one meeting prior to the press conference, but ripped Special Counsel Robert Mueller's probe during the news conference, declaring there was "no collusion."
Trump also passed on a chance to side with the American intelligence community, which claims Moscow meddled in the election.
CNN's Anderson Cooper called it "perhaps one of the most disgraceful performances by an American president" immediately after the press conference. Cooper's name immediately began trending on Twitter after making the comment, which resulted in a variety of media members agreeing with the CNN star.
"Anderson Cooper nailed it," CNN anchor Brooke Baldwin tweeted.
Associated Press reporter Jonathan Lemire and Reuters White House correspondent Jeff Mason were both praised by journalists for asking tough questions, but Trump's answers drew scorn.
"Trump, finally asked whom he believes on Russia interference, gives a vague and rambling non-answer, with renewed complaints about Hillary's server. Says he trusts US intel but made clear he takes Putin's denials seriously. Lame response, to say the least," Fox News' Brit Hume tweeted.
NBC News' online headline said Trump's performance "advances conspiracy theories," pointing to him bringing up 33,000 Hillary Clinton emails that the president said are missing.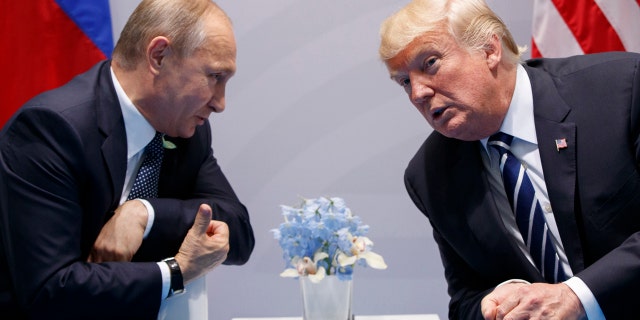 "He threw in references to the whereabouts of a computer server at the Democratic National Committee and the activities of a former House Democratic staffer who some conspiracy theorists have alleged penetrated lawmakers' computers," NBC News' Jonathan Allen wrote. "Trump also blamed the U.S. in part for the deterioration of the relationship between the two countries in recent years."
The New York Times' headline said, "Trump avoids rebuking Putin on meddling," noting that the president "won't say if he believes Moscow or U.S. intelligence." The Washington Post also focused on the president's reaction to the Mueller probe with a headline, "Putin again denies Russian interference in the 2016 U.S. election; Trump calls probe a 'disaster for our country.'"
CNN chief International anchor Christiane Amanpour called the press conference "extraordinary," while the network's senior White House correspondent Jim Acosta said the president took the word of Putin over his own intelligence community. Acosta even said there was "nervous laughter" in the room when Putin was asked if he has dirt on Trump before calling it "astonishing" that he didn't condemn Putin when given the chance.
"They came across as playmates on a soccer field more than they did international rivals," Acosta said.
CNN's Gloria Borger added, "Everybody around the world has seen the president stand next to Vladimir Putin and basically cave."
MSNBC's Brian Williams and Andrea Mitchell appeared dumbfounded following the press conference, criticizing Trump for saying he didn't see any reason why Russia would have meddled in the election.
"Coming down on the side of not really believing the intelligence verdict of his own appointees," Mitchell said. "He just decimated the questions about whether or not there was Russian interference."
Williams then read a tweet from ex-CIA Director John Brennan, who called the performance "nothing short of treasonous."
The summit came just days after the Justice Department announced the indictments of a dozen Russian intelligence operatives for allegedly hacking Democratic targets in the 2016 U.S. presidential election. Putin has previously told Trump that Russia did not meddle in the 2016 presidential election.
"Horrible performance from our President today. Pretty ugly when u give a pass to a nation that is undermining our democracy," Fox Business anchor Trish Regan tweeted.
Fox News' Neil Cavuto called the press conference "disgusting," while his colleague Stuart Varney added, "It was not a very forceful presentation from President Trump with Putin standing right next to him. Not forceful at all."
"Noticing on Twitter that many of the normal Trump defenders are struggling mightily to defend today's performance," NBC News' Chuck Todd said.
Conservative commentator Ben Shapiro called Trump's performance "self-serving and utterly grotesque," before declaring Trump "made a fool of himself." The BBC's headline simply stated, "Trump sides with Russia against FBI."
Conservative strategist Chris Barron tweeted, "Not pleased with Trump's Putin press conference. Doesn't feel like America First."
Fox News' Brooke Singman contributed to this report.