Matthew McConaughey dropped Penelope Cruz like a hot potato for wife Camila, book says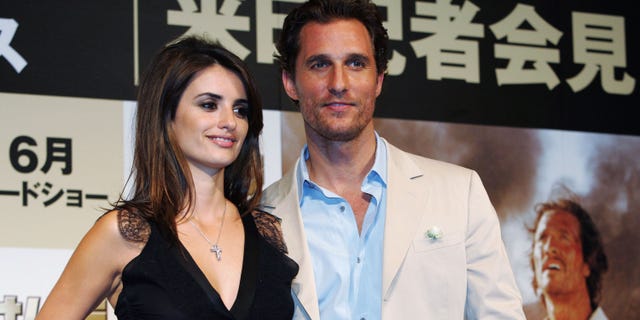 Matthew McConaughey has had his share of affairs with some of Hollywood's hottest leading ladies – Sandra Bullock, Ashley Judd, Renee Zellweger – just to name a few.
In a new book, "Matthew McConaughey: The Biography" by Neil Daniels, the Oscar winning actor opens up about some his relationships, including one with Penelope Cruz, and on how he met his wife.
"There's a bit of a language barrier, but it's like poetry when it happens," McConaughey told the Daily Mail of Cruz. "What I really love about her is that she sees everything for the first time, every time. And she's one of the best listeners I've ever met."
It was during his time with the Spanish actress (who is now married to actor Javier Bardem) that McConaughey spotted his future wife and it ruined him for any other woman.
Daniels wrote that the actor was hanging out at the Hyde Lounge Club in West Hollywood in 2006 with pal, now-disgraced cyclist Lance Armstrong, when he spotted Brazilian model Camila Alves.
"The first time I saw her walk across the room, I didn't say, 'Who is that?' I said, 'What is that?'" McCounaughey said. "The way she moved, I could see a person who knows who they are. There's a person who spends time with herself, and is not advertising for this world, and is not asking permission."
"From that night, I haven't been on a date with anyone else," he added.
Alves, 33, had arrived to Los Angeles from Brazil at 14 and cleaned houses and worked as a waitress before becoming a successful model. She and McCounaughey, 45, began dating in 2007 before tying the knot in June 2012.
They have three children – which is what the actor considers his greatest accomplishment.
"When I was 20 years old, I didn't know what I wanted for a career. But I knew I wanted to be a father," he said. "It had been the thing that, since I was very young, I looked up to. The men I looked up to the most were fathers – men who raised good kids."
Part of raising good kids is that the family travels together when McConaughey is on location for filming.
"One thing that we decide very early in the relationship is that when he goes, we all go – the whole family," Alves told the Daily Mail a while back.
"Matthew McCounaughey: The Biography" by Neil Daniels will be available on April 1.