Matt Lauer's joke about sleeping with interns left Vanity Fair writer 'queasy'
A joke made by Matt Lauer about sleeping with interns left a potential "Today" guest so uncomfortable, she declined to appear on the NBC morning show.
Comedy writer Nell Scovell was asked to appear on the peacock network in 2009 after she penned a Vanity Fair article about female writers being treated unfairly on "The Late Show With David Letterman."
Scovell writes in her new book that when she turned down the opportunity to be on "Today," Lauer called her personally to try to convince her to change her mind.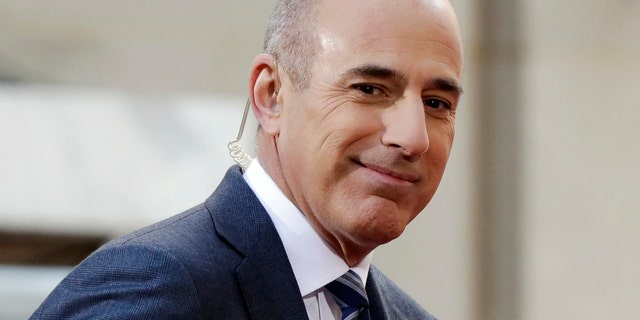 According to an excerpt obtained by Vanity Fair, Scovell told Lauer she was hesitant to appear on TV because "people want to hear about interns in the bedroom, and I want to talk about gender in the writers' room."
That's when Lauer reportedly made a joke that left Scovell "queasy."
Scovell said she told Lauer at the time, "You're OK if I don't discuss Dave sleeping with interns?"
To which Lauer reportedly replied, "Hey, I couldn't be held to that high standard."
"Matt's' 'joke' made me queasy. With apologies, I passed a second time," Scovell wrote.
Scovell's uncomfortable conversation with Lauer occured nearly a decade before the now-disgraced anchor was accused of sexual misconduct.
Lauer was fired from his 20-year post as anchor of NBC's "Today" show in November, after a former employee he had worked with accused the veteran TV man of sexual misconduct. Since Lauer's firing, several women have come forward to reveal their stories about the news anchor.
In addition to firing Lauer, NBC News has had a smorgasbord of other sexual misconduct-related incidents occur of late. MSNBC admitted star Chris Matthews settled with a former producer who accused him of sexual harassment; the network also fired "Morning Joe" regular Mark Halperin for sexual misconduct and suspended two contributors, Glenn Thrush and Harold Ford, Jr., after they were accused of harassment by women.