'Mary Tyler Moore' star Valerie Harper says her firing from 'Valerie' was sexism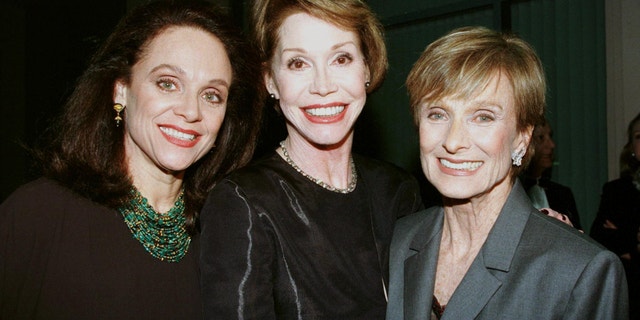 If you pick up Valerie Harper's breezy memoir "I, Rhoda," expecting salacious tidbits about "The Mary Tyler Moore Show," then you're going to be bitterly disappointed.
Instead the New Jersey native recounts her beginnings as a chorus girl on Broadway eventually landing in Hollywood and the role that changed her life - Rhoda Morgenstern on "The Mary Tyler Moore Show." Harper also writes candidly about being fired from her subsequent series, "Rhoda" and having lung cancer. The 73 year-old actress spoke to FOX 411 about the book.
FOX 411: Are you still in touch with Mary Tyler Moore?
HARPER: Yeah she helped me with my book. She gave me some tips on what photos I should use. One photo was very funny and Mary said, 'You know Val, it is funny but people might take the wrong idea that we're making fun of people who have a problem.
FOX 411: What was the photo?
HARPER: Oh no I'm not saying! You might have thought we were making fun of people who are infirm, making faces, stuff like that, that's as far as I'm going. It wasn't horrible, it was funny. But Mary has that eye, she's great. She was very helpful. Mary's very good about her career and very thoughtful.
FOX 411: Do you still get recognized for 'Rhoda?'
HARPER: Yeah not always but often. Rhoda has really been the winds in the sail of my career completely and I haven't suffered I don't think, maybe I have lost things but eh... for all I've gotten, it's not even a contest.
FOX 411: You were fired from your own sitcom 'Valerie.'
HARPER: I pushed my way of working on them and they never said anything. It just got very tight. There were no arguments, no fights.
FOX 411: Do you think there was sexism involved?
HARPER: I think so. I think it would have been different. Men have done far more egregious things. Although, I have to say, most of the people I was opposite in court, we're all friends again.
FOX 411: Was it hard to be painted as crazy?
HARPER: No, by then I'd been in the business a long time, darling! It happened when Joan Rivers husband killed himself and a big plane crashed on its way to LAX and everyone was killed. I said, 'You know let's keep this in perspective. This is Hollywood behaving badly. It's business.' At times it was painful but I don't remember ever losing a great deal of sleep. I will say, winning is good!''
FOX 411: You were on one of the greatest sitcoms of all time. Does reality T.V. make you sad?
HARPER: There's so much to watch that you don't need to worry about that. First of all it's not reality. It's faux reality, and the writers aren't getting paid properly. I know this. It doesn't make me sad. I never see it. I don't think I ever saw "The [Jersey] Shore" show. I saw the little girl just the other day for a minute and she's cute, little [Honey] Boo Boo person. But there's so much now. I come from three venues, ABC, NBC and the fabulous CBS. That was what we had and the country was kind of connected because we were all watching the same thing.
FOX 411: What advice do you have for someone starting out now?
HARPER: Just keep doing your work and be as good as you possibly can, and then if it seems as if it's not for you, then change your major and stay in the business. There are many things you can do. Many people who started as actors are fantastic writers or directors or producers.
And most of all, [the industry] is not the be-all or end-all. It's cracked up to be the most fabulous thing in the world. It's not unless you love the doing.