Marilyn Manson defends using a fake rifle at San Bernardino concert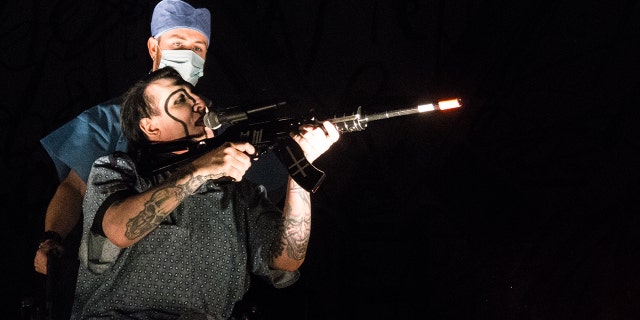 Marilyn Manson pretended to shoot his audience with a fake rifle at his concert Sunday in San Bernardino, Calif. and he's standing by his decision.
San Bernardino is recognized as the same city where 14 people were killed and 24 were injured in a December 2, 2015 terror attack. The performance took place just hours after at least 26 people were murdered inside First Baptist Church in Sutherland Springs, Texas, when a gunman opened fired.
"In an era where mass shootings have become a nearly daily occurrence, this was an act of theater in an attempt to make a statement about how easily accessible semi-automatic weapons are and how seeing them has become normalized," the 48-year-old shock rocker said in a statement sent to Variety Monday.
"My art has always been a reaction to popular culture and my way to make people think about the horrible things that happen in this world," he added. "My performance was not meant to be disrespectful or show any insensitivity."
TMZ reported Monday the "Beautiful People" singer was in a wheelchair, due to a leg injury, while he carried the fake firearm. He pointed it at the crowd while singing "We Know Where You F-----g Live." Manson moved the fake gun around and pointed it throughout his controversial concert.
"The prop microphone I used on stage was handed to me with the approval of a police officer," said Manson. "My empathy goes out to anyone who has been affected by the irresponsible and reprehensible misuse of REAL guns."
Earlier this year, Manson claimed the Columbine shootings were to blame for ruining his career.
"Certain people blame me for the shootings at schools – I think my numbers are low, and hopefully they go up on (my upcoming) record," said Manson, according to the New York Daily News. "But honestly, the Columbine era destroyed my entire career at the time."
The recent gig was Manson's first concert since he was hospitalized. Manson was previously forced to cancel nine shows after a stage prop fell on top of him mid-performance.