Mariah Carey's team says 'New Year's Rockin' Eve' performance was sabotaged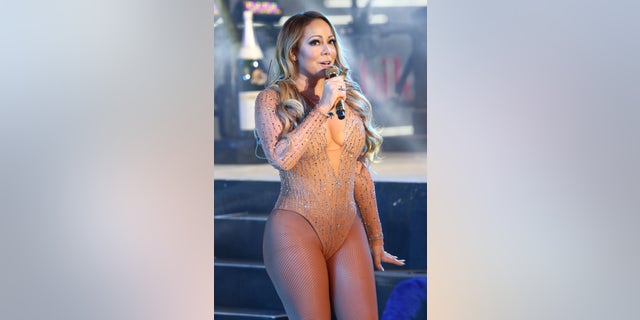 NEWYou can now listen to Fox News articles!
Representatives for Mariah Carey reportedly complained that the diva's troubled performance on "Dick Clark's New Year's Rockin' Eve with Ryan Seacrest" was set up by the show's producers "so they could get Mariah drama."
TMZ reported Sunday that the 46-year-old Carey's team claimed in a written complaint to Dick Clark Productions that her sound and microphone systems were deliberately sabotaged. The report said that Carey and her team repeatedly complained that her earpieces were not working.
Carey's mood seemed to range from frustration to resignation as she struggled with the pre-recorded musical tracks. Telling the revelers jammed into New York City's Times Square that there had not been a sound check for her hit song "Emotions," she lamented that "we're missing some of these vocals, but it is what it is."
"Let the audience sing," she decided as she paced the stage.
"I'm trying to be a good sport here," she said, adding her own sarcastic review of the performance. "That was ... amazing."
The next song, "We Belong Together," went no better. At times, she lowered the microphone from her mouth and the music, vocals and all, kept playing, making it clear she was lip-synching.
"Unfortunately there was nothing she could do to continue with the performance given the circumstances," Carey spokeswoman Nicole Perna said Sunday.
Dick Clark Production sources told TMZ that Carey should have been able to hear the music even without an earpiece, and added that it was the singer's decision not to do a pre-performance sound check.
Carey later tweeted about the night, starting with a brief profanity, throwing in a couple of sad emojis and concluding with, "Here's to making more headlines in 2017."
The performance was broadcast on ABC and was subject to widespread mockery on social media. Commentators called the fiasco a fitting end to a traumatic year for the music industry, marked by the deaths of Prince, David Bowie and George Michael among others. One tweeter, referring to the 2016 presidential campaign, joked that Carey's show had been hacked by the Russians.
The Associated Press contributed to this report.