Mariah Carey's ex-security guard claims singer sexually harassed him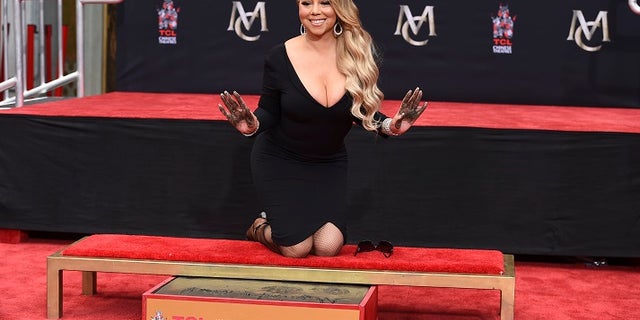 Mariah Carey's former security guard has accused the "Touch My Body" singer of sexual harassment and threatened to sue for unpaid invoices.
Michael Anello, head of the California-based Anello Security & Consulting, claimed Carey wore revealing clothing and performed "sexual acts with the intent that they be viewed" by him, TMZ reported after obtaining a draft of the complaint.
Anello noted one incident when Carey reportedly told him to assist her with her baggage to her Cabo San Lucas hotel room. Anello claimed the Grammy Award-winning crooner was wearing a "see-through negligee that was open."
MARIAH CAREY UNDERGOES WEIGHT-LOSS SURGERY TO END CRITICISM FROM BODY SHAMERS, SAYS REPORT
He said he attempted to leave the room but she demanded he move her luggage. The security guard claimed the two did not make physical contact.
Anello also claimed the "We Belong Together" singer called him a "Nazi, skinhead, white supremacist and KKK member," according to the complaint.
The security guard also alleged Carey "wanted to be surrounded with black guys, not white people."
CHARLIE SHEEN DENIES REPORT CLAIMING HE SEXUALLY ASSAULTED 13-YEAR-OLD COREY HAIM
Anello intended to sue Carey for an invoice totaling more than $220,000 that Carey failed to pay his security company for work they did from June 2015 to May 2017. He also alleged Carey denied his company two years of employment which would have brought the security business $511,000, Page Six reported.
Carey's reps told TMZ they contacted Anello's lawyer Monday to negotiate but it was not immediately clear if they agreed to settle. The lawsuit was reportedly put on hold due to the negotiations.
Carey was currently preparing to begin her "All I Want for Christmas Is You" tour which was slated to begin on Nov. 17. The singer just finished a tour with singer Lionel Richie in September.